The United Nations in The New World Disorder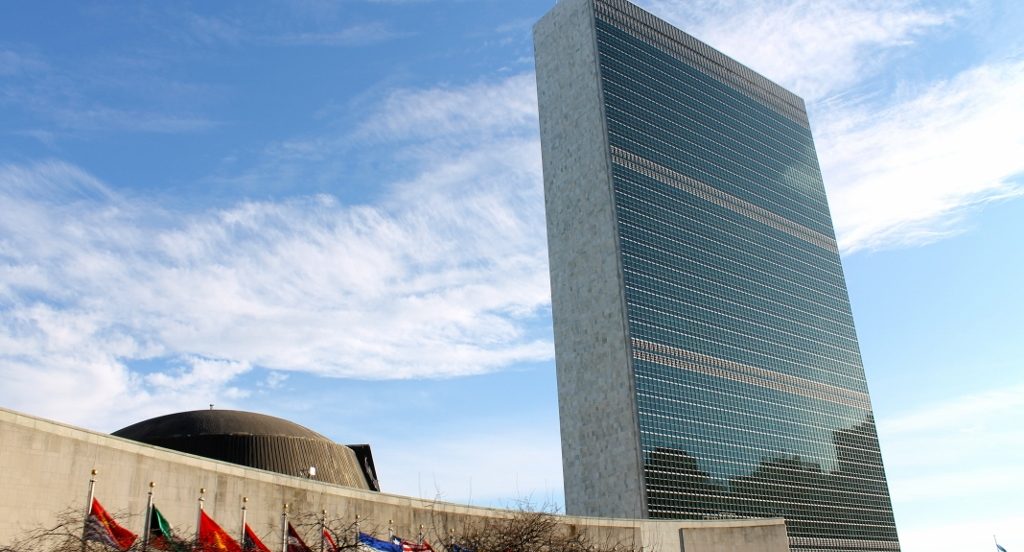 UN specialist, author, and filmmaker Romuald Sciora will discuss his new book, L'ONU dans le nouveau désordre mondial (The United Nations in The New World Disorder), with Anne-Cécile Robert, Editorial Director for International affairs at Le Monde Diplomatique; Ambassador Ioannis Vrailas, Deputy Head of the European Union Delegation to the UN, Robert Jervis, Professor of International Politics at Columbia University's SIPA, and David Bosco, professor of International Politics, and senior editor at Foreign Policy magazine
The conversation will be introduced by François Delattre, Ambassador, Permanent Representative of France to the United Nations, and Cristina Gallach, the United Nations Under-Secretary-General for Communications and Public Information.
In English. We regret to inform you that we have reached full capacity for this event. Thus, we invite you to watch this conversation via livestream on January, 23 at 7pm (EST).
---
Born in Paris in 1970, Romuald Sciora is viewed as one of the most knowledgeable specialists on the United Nations. He has co-published two books with the United Nations, including one with a foreword by former French President Jacques Chirac. These books benefited from the participation of various intellectuals from different backgrounds, such as Noam Chomsky, Samantha Power, and Joseph Stiglitz. Sciora has also written a book about the Middle East along with two plays. As a filmmaker, he has produced more than a dozen political documentaries including a TV series devoted to the United Nations, At the Glass Building, broadcast in more than 20 countries. His new book, The United Nations in the New World Disorder, is available in France.
David Bosco, professor of International Politics, is senior editor at Foreign Policy magazine. He is author of Five to Rule Them All (Oxford University Press, 2009), a history of the UN Security Council. He recently completed Rough Justice (Oxford University Press, 2014), an examination of the International Criminal Court's first decade.
Cristina Gallach is the United Nations Under-Secretary-General for Communications and Public Information. Prior to her appointment on December 4, 2014 by United Nations Secretary-General Ban Ki-moon, Ms. Gallach was with the Council of the European Union as Head of the Public Relations Unit.
Robert Jervis (Ph.D., California at Berkeley, 1968) is the Adlai E. Stevenson Professor of International Politics and has been a member of the Columbia political science department since 1980. He has also held professorial appointments at the University of California at Los Angeles (1974-1980) and Harvard University (1968-1974). In 2000-2001, he served as President of the American Political Science Association. Professor Jervis is co-editor of the Cornell Studies in Security Affairs, a series published by Cornell University Press, and a member of numerous editorial review boards for scholarly journals. His publications include Perception and Misperception in International Politics, The Meaning of the Nuclear Revolution, System Effects: Complexity in Political and Social Life, American Foreign Policy in a New Era, and Why Intelligence Fails: Lessons from the Fall of the Shah and Iraqi WMD, and several edited volumes and numerous articles in scholarly journals.
Anne-Cécile Robert is a journalist, and a specialist on the UN, European Institutions, as well as on Africa. She is a member of the editorial and executive board of the monthly French magazine Le Monde diplomatique. She is also an Associate Professor at the Institute of European Studies of Paris-VIII University.
Ambassador Ioannis Vrailas became Deputy Head of the Delegation of the European Union to the United Nations in July 2011. After finishing studies in economics at the University of Athens and working as an intern at the European Commission, Mr. Vrailas joined the Greek Ministry of Foreign Affairs in 1985. From 1989 to 1991, Mr. Vrailas was Assistant to the Minister of Foreign Affairs. Afterwards, he moved to the Permanent Mission of Greece to the UN, where he covered mainly Security Council issues and was the Mission's coordinator during the Greek Presidency in 1994. From 1996 to 1999, he was the Deputy Chief of Mission of the Embassy of Greece in Tehran. In August 2009, he was appointed Deputy Chief of Mission of the Embassy of Greece in Washington, until July 2011.