The Twilight of The Great Generation: Ordinary Men & Extraordinary Feats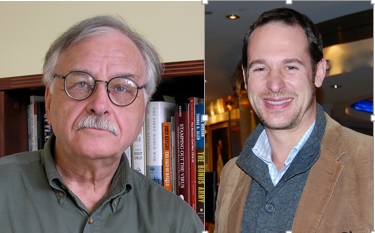 What is the meaning of heroism and courage in times of war? As the « Great Generation » of WWII soldiers is quickly disappearing, French New York-based journalist Maurin Picard met with eleven American, French, German and Canadian veterans. They shared their own personal odyssey – when lives were spared by a badly aimed shot, a faulty bombshell, or a miraculous reflex.
In Des héros ordinaires, Maurin Picard places these stories into a larger narrative, both operational and strategic, saving them from oblivion while asking questions that are fundamental in the face of future conflicts.
Was there a higher call that pushed these young people to answer the call to arms? Was it about making a difference and joining a just cause, or was it rather mere survival? Where did they find the strength to go through the whole conflict and make it out alive? What was their postwar experience and how did their fighting years come to define the rest of their existence?
Join Maurin Picard and Michael Robbins as they look back on the acts of courage and extraordinary feats of a few humble men, who never really wanted to be called « heroes ».
In English. Free and open to the public. No RSVP necessary.
---

Michael W. Robbins is a historian and award-winning writer and editor. Recently retired as editor of MHQ, the Quarterly Journal of Military History, he was also editor of Military History magazine (2006-2013), and editor of Oceans magazine and Audubon magazine.
Robbins has written features on history, science, and environmental issues for New York, Discover, Popular Science, Mother Jones, National Wildlife and other magazines. He won a National Magazine Award for an investigative article in New York magazine and recently edited several books on military history. His new centennial history of World War I is scheduled for publication in November, 2017.
A graduate of Colgate University, Robbins has a Ph.D. in American history from George Washington University. He resides in Kinderhook, New York.
Maurin Picard has been a correspondent in the United States for Le Figaro, Sud Ouest, and Le Soir since 2011. Born in 1973, he holds a degree in Political Science. He covered the 2012 presidential campaign for the francophone media and lives in New York. Metamorphoses of The United States Since 1965, his first book, is published by Atelier Henry Dougier (2016). His second book, Des Héros ordinaires (Perrin, 2016) was published in France to great acclaim.