The Safe House: A Novel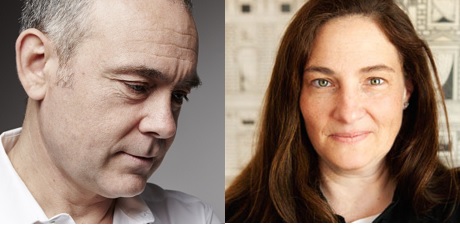 Join Christophe Boltanski and A.M. Homes as they discuss Boltanski's award-winning debut novel, The Safe House: A Novel (2015 Femina Prize), just published in the US with the University of Chicago Press.
In Paris's exclusive Saint-Germain neighborhood is a mansion. In that mansion lives a family. Deep in that mansion. The Bolts are that family, and they have secrets. The Safe House tells their story. That house (and its vehicular appendage) are at the heart of Christophe Boltanski's ingeniously structured, lightly fictionalized account of his grandparents and their extended family. The novel unfolds room by room—each chapter opening with a floorplan— introducing us to the flamboyant characters who occupy each room.
In English. Free and open to the public. No RSVP necessary.
---
Christophe Boltanski has been a journalist at the French newspaper Liberation, before becoming a reporter for the French weekly Le Nouvel Observateur. He is now the Editor in Chief of the review XXI. His debut novel, The Safe House: A Novel, was awarded the prestigious femina Prize in 2015.
A.M. Homes is the author of the novels, May We Be Forgiven (winner of the 2013 Orange Prize), This Book Will Save Your Life, Music For Torching, The End of Alice, In a Country of Mothers, and Jack; the short-story collections, Things You Should Know and The Safety of Objects; the best selling memoir, The Mistress's Daughter; a travel memoir, Los Angeles: People, Places and The Castle on the Hill.
Her work has been translated into twenty-two languages and appears frequently in Art Forum, Harpers, Granta, McSweeney's, The New Yorker, The New York Times, and Zoetrope. She is a Contributing Editor to Vanity Fair, Bomb and Blind Spot. Several times a year she collaborates on book projects with artists—among them Eric Fischl, Rachel Whiteread, Cecily Brown, Bill Owens, Julie Speed, Michal Chelbin, Petah Coyne, Carroll Dunham, Catherine Opie and Todd Hido.
She has also created original television pilots for HBO, FX and CBS and was a writer/producer of the Showtime series The L Word. Additionally, Homes wrote the adaptation of her first novel, Jack, for Showtime. Director Rose Troche's 2003 adaptation of The Safety of Objects marked the screen debut of Kristen Stewart. Other Homes novels currently in development include  This Book Will Save Your Life.