The Royal Vegetable Garden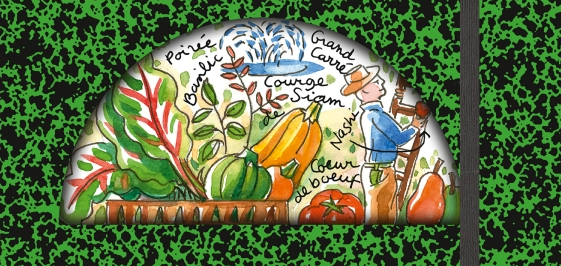 Join us for a discussion with Raphaèle Bernard-Bacot as she presents Le Potager du Roi : dessins de saison à Versailles (Glénat), a sketchbook depicting the royal vegetable garden in Versailles.
The Versailles vegetable garden covers twenty-two acres and gathers over eight hundred varieties of fruit and vegetables. Today, the Potager du Roi is supervised by the National School of Landscaping, and offers an interesting blend between ancient and local varieties and new ecological approaches. For three years, Raphaèle Bernard-Bacot observed the life of this special place while drawing. Her book invites readers to discover the colors of the garden, the work of the gardeners, and the history of a major French historical landmark through an original perspective. Both garden enthusiasts and history lovers will find their place in this royal garden.
In English. Free and open to the public. No RSVP necessary.
---
Raphaèle Bernard-Bacot is a French artist and illustrator. She is currently working on a new book focusing on urban community gardens in France.