The Pen and The Brush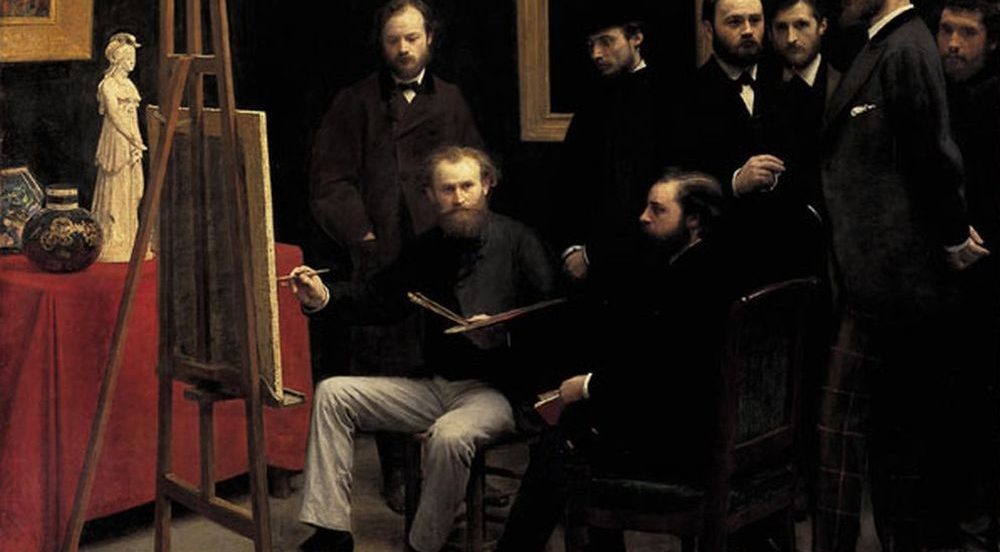 Latin poet Horace claimed used to claim: « Ut pictura poetica », (poetry is similar to painting). Ever since the Antiquity, painting has been an inspiration to poets and novelists, and writers, from Diderot to Baudelaire, from Balzac, and Zola to Artaud, Apolinaire, Picasso and Braque.
On Monday May 8, Anka Muhlstein and Caroline Weber will delve into the passionate involvement with the fine arts of French novelists Balzac, Zola, Proust, Huysmans, and Maupassant, based on Anka Muhlstein's new book, The Pen and The Brush: How Passion for Art Shaped Nineteenth-Century French Novels (Other Press, 2017).
Muhlstein and Weber will explore the crucial role that painters play as characters in their novels, together with the profound influence that painting exercised on the novelists' techniques, offering an intimate view of the intertwined worlds of painters and writers at the time.
In English. Free and open to the public. No RSVP necessary.
Credit Image, L'Atelier des Batignolles (Édouard Manet, Auguste Renoir, Otto Scholderer, Frédéric Bazille, Zacharie Astruc, Claude Monet, Émile Zola) by Henri Fantin-Latour.
---
Anka Muhlstein is the author of biographies of Queen Victoria, James de Rothschild, and Cavelier de La Salle; studies on Catherine de Médicis, Marie de Médicis, and Anne of Austria; a double biography, Elizabeth I and Mary Stuart; and most recently, Balzac's Omelette and Monsieur Proust's Library (Other Press).
Muhlstein won the Goncourt Prize for her biography of Astolphe de Custine, and has twice received the History Prize of the Académie française. Her last book, The Pen and the Brush: How Passion for Art Shaped Nineteenth-Century French Novels is published by Other Press in the US, and by Odile Jacob in France (La Plume et le pinceau, 2016). 
She and her husband, Louis Begley, are the authors of Venice for Lovers. They live in New York City. 
Caroline Weber received her Ph.D. in French literature from Yale University (1998) and her BA in Literature from Harvard University (summa cum laude, 1991). Before coming to Barnard/Columbia, she taught for seven years at the University of Pennsylvania.
A specialist in eighteenth-century French literature and culture, with particular emphasis on the Enlightenment and the French Revolution, Weber is the author of Terror and its Discontents: Suspect Words and the French Revolution (University of Minnesota Press, 2003), and of Fragments of Revolution (Yale University Press, 2001), an edited volume of essays on revolutionary culture. More recently, she published Queen of Fashion: What Marie-Antoinette Wore to the French Revolution (Henry Holt, 2006/Picador, 2007). A study of the political impact of Marie-Antoinette's controversial clothing choices, Queen of Fashion made the LA Times best-seller list and was selected as a Notable Book of the Year by The New York Times and a Best Book of the Year by Washington Post, Book World and Borders Books and Music. 
Anka Muhlstein
Anka Muhlstein