The Némirovsky Question: Life, Death, and Legacy of a Jewish Writer in 20th-C. France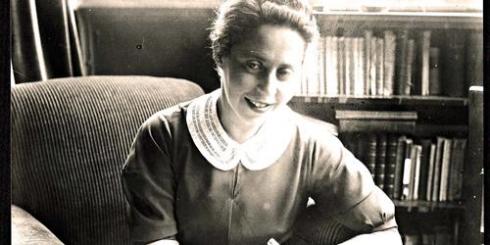 Irène Némirovsky succeeded in creating a brilliant career as a novelist in the 1930s, only to have her life cut short: a "foreign Jew" in France, she was deported in 1942 and died in Auschwitz. But her two young daughters survived, and as adults they brought their mother back to life. In 2004, Suite française, Némirovsky's posthumous novel, became an international best seller; some critics, however, condemned her as a "self-hating Jew" whose earlier works were rife with anti-Semitic stereotypes.
Acclaimed translator of Irene Nemirovsky novels, Sandra Smith and Susan Rubin Suleiman will discuss Suleiman's The Némirovsky Question: The Life, Death, and Legacy of a Jewish Writer in 20th-Century France.
Informed by personal interviews with Némirovsky's descendants and others, as well as by extensive archival research, Suleiman's  wide-ranging intellectual biography situates Némirovsky in the literary and political climate of interwar France and recounts, for the first time, the postwar lives of her daughters. Némirovsky's Jewish works, Suleiman argues, should be read as explorations of the conflicted identities that shaped the lives of secular Jews in twentieth-century Europe and beyond.
In English. Free and open to the public. No RSVP necessary.
---
Susan Rubin Suleiman was born in Budapest and emigrated to the U.S. as a child with her parents. She obtained her B.A. from Barnard College and her Ph.D. from Harvard University, and has been on the Harvard faculty since 1981, where she is currently the C. Douglas Dillon Research Professor of the Civilization of France and Research Professor of Comparative Literature.
Suleiman is the author or editor of a dozen books and more than 100 articles on contemporary literature and culture, published in the U.S. and abroad. Her latest book, The Némirovsky Question: The Life, Death, and Legacy of a Jewish Writer in 20th-Century France (Yale University Press), is about the Russian-French novelist Irène Némirovsky , who was deported from France in 1942 and died in Auschwitz. Suleiman's other books include Crises of Memory and the Second World War; Subversive Intent: Gender, Politics, and the Avant-Garde, and Risking Who One Is: Encounters with Contemporary Art and Literature. In addition to her scholarly work, Suleiman is the author of Budapest Diary: In Search of the Motherbook, a memoir about Hungary. Her book reviews and articles have appeared in The New York Times, The Boston Globe, The American Scholar, Moment Magazine and other newspapers and magazines.
Suleiman has won many honors, and has held a Guggenheim Fellowship, among others. During the 2009-2010 academic year, she was the invited Shapiro Senior Scholar-in-Residence at the Center for Advanced Holocaust Studies of the U.S. Holocaust Memorial Museum in Washington, D.C. In spring 2016, she was an invited Faculty Fellow at the Texas A&M Institute for Advanced Study. She lives in Belmont, Massachusetts.
Sandra Smith has translated 12 novels by Irène Némirovsky, including Suite Française, Camus' The Stranger, The Necklace and Other Stories: Maupassant for Modern Times, Et tu n'es pas revenue (But you did not come back) by Marceline Loridan-Ivens, a graphic novel of Camus' The Stranger adapted in French by Jacques Ferrandez, Pocahontas, a graphic novel by Loïc Locatelli-Kournwsky. Her translation of a biography of Jacques Schiffrin will be published by Columbia University Press next year.
Smith's translation of Suite Française won the French-American-Florence Gould Foundation Translation Prize, the PEN Translation Prize and was voted Book of the Year for 2006 by The Times of London. In 2015, her translation was adapted into a movie directed by Saul Dibb and starring Michele Williams, Matthias Schoenaerts and Kristin Scott Thomas.
But You Did Not Come Back has just won the 2016 National Jewish Book Award in the Best Biography, Autobiography, and Memoir category.
Seven of Smith's translations have been adapted as radio plays for the BBC – Suite Française, David Golder, Fire in the Blood, The Dogs and the Wolves, and Jezebel, all by Némirovsky, as well as Camus' The Outsider and But You Did Not Come Back.
Smith taught French language, literature and translation for many years at the University of Cambridge, as well as Master Classes in translation at Columbia. She has been a guest lecturer at Sarah Lawrence, Barnard and Harvard. She currently teaches at NYU and is a member of the Author's Guild and the PEN Translation Committee.