The Albertine Book Club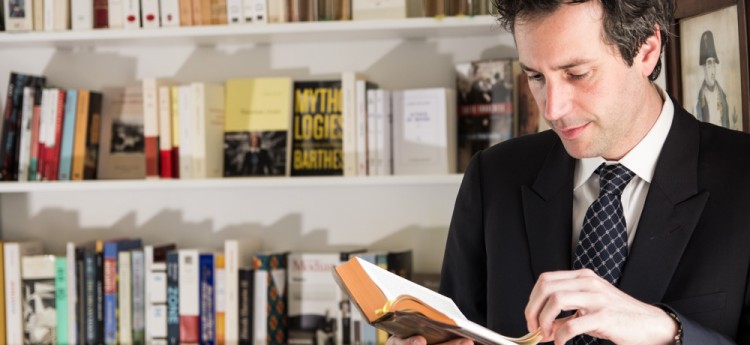 A monthly journey through French literature and ideas with Antonin Baudry.
In December, we discussed Marguerite Yourcenar's Memoirs of Hadrian (Mémoires d'Hadrien).
Roman Emperor Hadrian is one of the greatest leaders the world has ever seen. Yourcenar imagines a letter he would have sent to his grandson, Mark, unveiling his secret life, thoughts, doubts, and methods for creating a richer existence and a better understanding of the world. Certain musings he proposes are nothing short of provocative today.
This dream of the past is an evocation of a variety of fundamental questions for the individual (how should one deal with death? With love? With power?), as well as for an empire ("The problem of the Orient had preoccupied us for centuries […] the problem was not only to conquer but to conquer again and again, perpetually; our forces would be drained off in the attempt.").
The ideas and feelings evoked in Memoirs of Hadrian are universally relatable and yet completely unique, and the stakes and power struggles at hand resonate eerily with the geopolitical turmoil of our current world. Memoirs of Hadrian, a text as important for antiquity as it is to our present, straddles the spheres of high art and self-improvement. It is at once highly literary, a philosophical manual, and a friend.
"If this man had not maintained peace in the world, and revived the economy of the empire, his personal fortunes and misfortunes would have moved me less." – Marguerite Yourcenar, Reflections on Memoirs of Hadrian.
French and English versions of the book are available for purchase at Albertine.
The discussion is led in English and French. Speakers of either language are encouraged to attend. Translation of discourse are readily available. The Albertine Book Club is free and open to the public. No RSVP necessary.
---
Antonin Baudry is Ambassador for French Culture and President of the Institut Français in Paris where he creates initiatives to promote French culture across the globe.
As Cultural Counselor of the French Embassy in the United States from September 2010 to January 2015, he oversaw French-American cultural relations and supported French universities, arts, literature and education to cultural and academic institutions across the United States. He created a renewed connection between France and the United States with a team spread between New York, Washington and eight other American cities. In his role as Cultural Counselor, Baudry also served as the Permanent Representative of the French Universities in the United States and fostered French-American higher education exchanges, creating opportunities for researchers, scholars and students to collaborate.
Baudry is the Founder of Albertine Books in French and English, which opened its doors in New York in September 2014.  Offering over 14,000 titles in French and in translation, the combination reading room, bookshop, and venue is a project of the Cultural Services of the French Embassy and provides a singular hub for French-American intellectual exchange in New York.  Albertine serves as a new forum for debates and discussions on subjects from politics, to economics, to art, literature, and the sciences that explore culture through a modern and global lens.
Under the penname of Abel Lanzac, Baudry received the prize for best album at the Angoulême International Comics Festival with designer Christophe Blain in February 2013 for the second installment of their graphic novel series Quai d'Orsay. Baudry and Blain also received the RTL graphic novel Grand Prize in December 2010 for the first installment of the same series.
The film adaptation of Quai d'Orsay premiered in November 2013 and won the special jury prize for best screenplay at the Saint-Sébastien Film Festival in September 2013 and the Prix Jacques Prévert screenplay prize in February 2014 for best adaptation. The film was also chosen as a special presentation at the 2013 Toronto International Film Festival and was nominated for a 2014 César award for best adaptation.
Baudry is an alumnus of both the Ecole Normale Supérieure (Ulm) and the Ecole Polytechnique.