The Albertine Book Club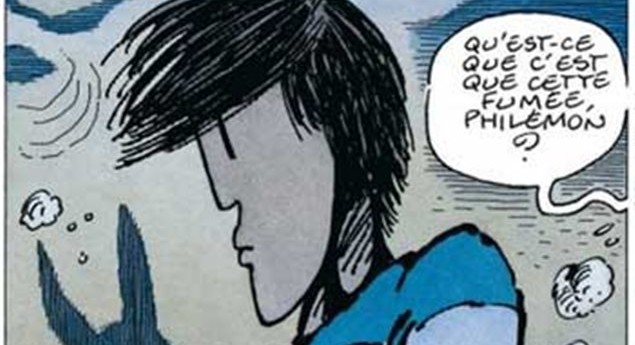 Le naufragé du "A", or Cast Away on the Letter A, the first book in the Philémon series, is the story of a teen boy who slips down a well and ends up on an unidentifiable island – or more specifically – he gets washed up on the letter "A" of the words "Atlantic Ocean."  Such a leap of logic is fair game in the rich world of this bande dessinée, which unfurls in the realm of the imagination and is infused with undeniable poetry.

Its author, the late Frédéric Othon Aristidès, commonly known as "Fred," was a game changer for French comic art. Kicking off his career in his twenties, Fred co-founded Hara-Kiri, the leading satirical publication on the May '68 movement, and subsequently designed its first 60 covers.

Fred's wildly popular graphic novel series Philémon was first published in Pilote magazine in 1972 by René Goscinny, the author of the Astérix series, and its sixteenth and final volume of was released in 2013.  Philémon remains a source of inspiration for many French and American graphic novelists today and will soon be made into a film. 

Fred's work has been published in Ici Paris, France Dimanche, Punch, and The New Yorker, among others, and he has written scenarios for artists including Jean-Claude Mézières, Loro, Georges Pichard, Hubuc, Mic Delinx and Alexis. In 1980, Fred was awarded the Grand Prix de la ville at the seventh Angoulême International Comics Festival.

Join us for a colorful chat on Philémon with bestselling author of the satirical graphic novel Quai d'Orsay, Antonin Baudry.

French and English versions of Philémon are available for purchase at Albertine.
The discussion is led in English and French. Speakers of English and/or French are encouraged to attend! The Albertine Book Club is free and open to the public. No RSVP necessary.
---
Antonin Baudry is a writer, former diplomat, and founder of Albertine Books in French and English, New York's only French reading room and bookshop. Baudry most recently held positions as Ambassador for French Culture and President of the Institut Français in Paris (2015), where he created initiatives to promote French culture across the globe, and Cultural Counselor of the French Embassy in the United States (2010 to 2015), where he oversaw French-American cultural relations and supported French universities, arts, literature and education to cultural and academic institutions across the United States. He created a renewed connection between France and the United States with a team spread between New York, Washington and eight other American cities. In his role as Cultural Counselor, Baudry also served as the Permanent Representative of the French Universities in the United States and fostered French-American higher education exchanges, creating opportunities for researchers, scholars and students to collaborate.
Baudry is the Founder of Albertine Books in French and English, which opened its doors in New York in September 2014. Offering over 14,000 titles in French and in translation, the combination reading room, bookshop, and venue is a project of the Cultural Services of the French Embassy and provides a singular hub for French-American intellectual exchange in New York. Albertine serves as a new forum for debates and discussions on subjects from politics, to economics, to art, literature, and the sciences that explore culture through a modern and global lens.
Under the pen name of Abel Lanzac, Baudry received the prize for best album at the Angoulême International Comics Festival with designer Christophe Blain in February 2013 for the second installment of their graphic novel series Quai d'Orsay. Baudry and Blain also received the RTL graphic novel Grand Prize in December 2010 for the first installment of the same series.
The film adaptation of Quai d'Orsay premiered in November 2013 and won the special jury prize for best screenplay at the Saint-Sébastien Film Festival in September 2013 and the Prix Jacques Prévert screenplay prize in February 2014 for best adaptation. The film was also chosen as a special presentation at the 2013 Toronto International Film Festival and was nominated for a 2014 César award for best adaptation.
Baudry is an alumnus of both the Ecole Normale Supérieure (Ulm) and the Ecole Polytechnique.