Ségolène Royal and Amy Davidsen in Conversation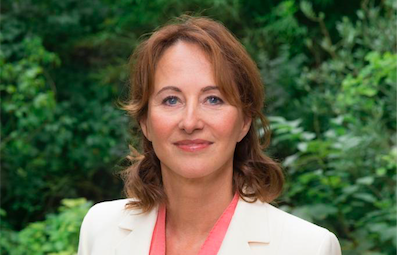 Ségolène Royal, France's former Minister of Environment, will discuss her most recent book, Ce que je peux enfin vous dire, along with her political career and long-time activism in favor of government action on climate change, with Executive Director in North America of The Climate Group, Amy Davidsen.
The first woman to ever make it to the second round of a French presidential election, Ségolène Royal faced violent outbursts of hostility throughout her career, some of which were attributed to her success as a woman in a man's world. In her latest book, Ce que je peux enfin vous dire, Royal draws parallels between the violent treatment of powerful women in today's society and the destruction of our environment.
In French. Free and open to the public. RSVP required via Eventbrite.
Follow the event on Facebook.
Watch the event on Livestream on Wednesday, February 13, 2019 at 6:30PM EST.
---
Former Minister of Environment, Energy and Marine Affairs, COP 21 President, Special Envoy for International Solar Alliance, Ambassador for the Pole, Ségolène Royal held a ministerial position in charge of Environment and Energy from April 2014 to May 2017, and then was nominated as Special envoy for ISA and Ambassador for the Poles by President Macron. She was President of the 21st session of the United Nations Framework Convention on Climate Change of the Paris Agreement, COP 21. She was Minister  for Family Affairs, Childhood and Disability (March 2000 – May 2002), Minister for School Education (June 1997 – March 2000), and Minister for the Environment (April 1992 – March 1993), as well as the runner-up for the 2007 presidential election, the first woman in France to be nominated as a presidential candidate by a major party
Amy Davidsen leads the delivery of The Climate Group's work and impact in North America to accelerate the transition to a clean energy future. She works with leaders in business and state and regional governments on collaborative programs to deliver impact on a global scale through actions taken today, such as the RE100, EP100 and EV100 campaigns and the Under2 Coalition. In addition, she oversees The Climate Group's flagship annual summit Climate Week NYC, held each September during the week of the UN General Assembly to highlight climate action and solutions.