In Search of A Jewish Legacy in Algiers: Alice Kaplan and Maurice Samuels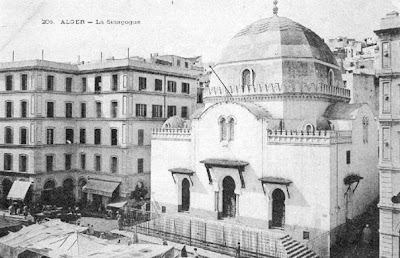 A passion for Albert Camus's fiction first brought Alice Kaplan to Algiers. Fascinated by the city's beauty and its past –and especially the many traces left by the Jewish community– the acclaimed historian and Yale professor has written an engaging and masterfully composed debut novel about two families whose destiny will become entangled throughout the more intense years of the country's history. On Tuesday, November 1 at 6:30pm, join Alice Kaplan and Maurice Samuels as they discuss Maison Atlas, Kaplan's debut, published to great acclaim in France earlier this year (éd. Bruit du Monde).
Maison Atlas begins in the early 1990s, when Emily leaves Minnesota to spend a year abroad studying in Bordeaux. In one of her classes she meets Daniel Atlas, an Algerian Jew, and they fall in love. He's still just a young dandy when civil war breaks out in Algeria, and he's forced to leave Emily and France. Returning to El Biar, the neighborhood where he grew up, Daniel finds his parents isolated and threatened. His family, successful property owners with a distinguished history and deep Algerian roots, stayed put after the country won its independence in 1962, when most Jews moved away. Years later, Becca, a young American student, travels to Algiers to better understand her origins.
This event will be in English. It is free with RSVP. Click here for ticket(s).
Alice Kaplan is Sterling Professor of French and Director of the Whitney Humanities Center at Yale University, and a specialist of 20th century France. Her previous books include The Interpreter, Dreaming in French: The Paris Years of Jacqueline Bouvier Kennedy, Susan Sontag, and Angela Davis, and Looking for The Stranger: Albert Camus and the Life of a Literary Classic.
Maurice Samuels is the author of four books: The Spectacular Past: Popular History and the Novel in Nineteenth-Century France (Cornell, 2004); Inventing the Israelite: Jewish Fiction in Nineteenth-Century France (Stanford, 2010 / Hermann, 2017); The Right to Difference: French Universalism and the Jews (Chicago, 2016 / La Découverte, 2022); The Betrayal of the Duchess (Basic Books, 2020). He also co-edited a Nineteenth-Century Jewish Literature Reader (Stanford, 2013) and edited Les grands auteurs de la littérature juive au XIXe siècle (Hermann, 2015). Samuels is a recipient of the Guggenheim Fellowship and of the New York Public Library Cullman Center Fellowship, and he is a professor of French literature at Yale University.