Reagan/Gorbatchev: Reykjavik, 1986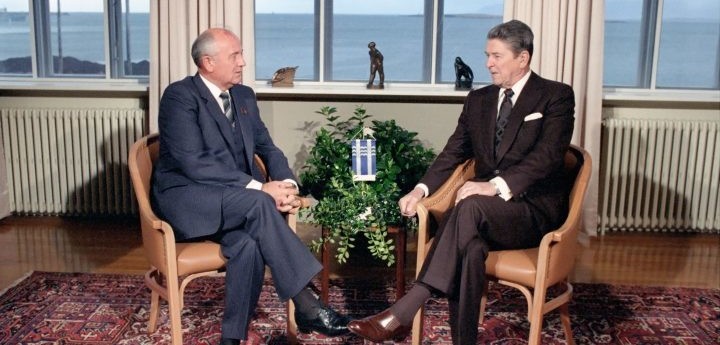 A Conversation with Guillaume Serina and David A. Andelman
Monday, February 27, 2017
7:00 PM
In English. Free and open to the public. no RSVP necessary.
A Conversation with Guillaume Serina and David A. Andelman
In Reykjavik, on October 11 and 13 1986, the last president of the USSR president and future Nobel Prize Mikhaïl Gorbatchev met America's Commander-In-Chief Ronald Reagan to discuss the future of their respective nuclear arsenals. In his newest book Reagan/Gorbatchev, Reykjavik 1986, Le Sommet de tous les espoirs, Guillaume Serina reveals the poker game played by the two most powerful men on the planet over the course of two days that could have changed the face of history.
Over the course of this evening, Guillaume Serina and David A. Andelman will comment on the Reykjavik summit, which came close to ending the nuclear competition between the East and the West, and discusses how this historical meeting — which remains curiously unknown — revealed the political climate, the strengths, and the weaknesses of both leaders. The two most powerful men of their time ended up steeling their wits against each other: does Reagan really want to share the SDI technology with the USSR? Can Gorbatchev ignore the USA's strategy? Guillaume Serina tells the story of this fascinating chess match, and ponders whether a world free of nuclear weapons is still possible today.
In English. Free and open to the public. No RSVP necessary.
---
Guillaume Serina is the founder and CEO of FRANCE USA MEDIA, and a newspaper and magazine reporter in the US. he currently works as a correspondent for French media in Los Angeles including Le Parisien Magazine, and Le Journal du dimanche (national daily) and others.
He is the author of five books: Reagan/Gorbatchev, Reykjavik 1986, Le Sommet de tous les espoirs (2016, editions l'Archipel), Obama face aux 9 plaies de l'Amerique (2012, editions l'Archipel), and a biography of Barack Obama : Barack Obama, premier président noir des Etats-Unis (editions de l'Archipel, Paris, 2008).
David A. Andelman, a member of the Board of Contributors of USA Today, and a columnist for CNN Opinion, served for more than seven years as Editor & Publisher of World Policy Journal. He also serves as US political commentator for France 24 TV's English and French networks. Previously he served as an executive editor of Forbes and Forbes.com. Earlier, he was a domestic and foreign correspondent for The New York Times in various posts in New York and Washington, as Southeast Asia bureau chief, based in Bangkok, then East European bureau chief, based in Belgrade. He then moved to CBS News where he served for seven years as Paris correspondent. There followed service as a Washington correspondent for CNBC, news editor of Bloomberg News and Business Editor of the New York Daily News. In the course of his career he has traveled through and reported from 85 countries. He is the author of three books, The Peacemakers, published by Harper & Row, and The Fourth World War, published by William Morrow, which he co-authored with the Count de Marenches, long-time head of French intelligence. His third book, A Shattered Peace: Versailles 1919 and the Price We Pay Today was published by John Wiley & Sons, in a new Centenary Edition with foreword by Sir Harold Evans. Andelman has written for such publications as Harpers, The Atlantic, The New Republic, The New York Times Magazine, Readers Digest, Foreign Policy and Foreign Affairs. He is a graduate of Harvard University and the Columbia University Graduate School of Journalism, and is a member of the Century Association, the Council on Foreign Relations, the Harvard Club of New York, the National Press Club and the Grolier Club. He is first vice president of the Board of Governors of the Society of the Silurians, President-emeritus of the Overseas Press Club of America and serves on its board.
Monday, February 27, 2017
7:00 PM
In English. Free and open to the public. no RSVP necessary.