Proust and Joyce at The Majestic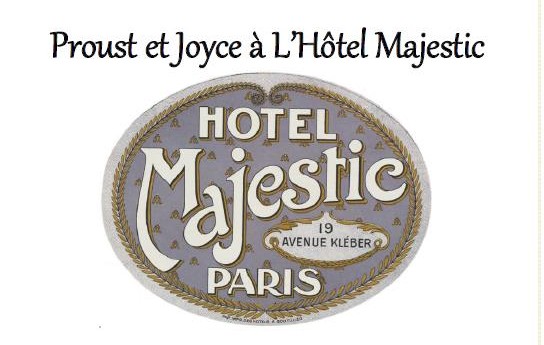 Staged reading, in French, of an original play by Debbie Wiess, Proust and Joyce at the Majestic tells of the true event 93 years ago that brought the celebrities of the time together for an extraordinary dinner.
On May 18, 1922, in celebration of the première of Stravinsky's new burlesque ballet Le Renard (The Fox) by Les Ballets Russes, Sydney and wife Violet Schiff hold what was dubbed the "soirée of the century" at the Majestic Hotel in Paris. It was at this party that 5 of the greatest icons of Modernism – writers Marcel Proust and James Joyce, artist Pablo Picasso, composer Igor Stravinsky and founder of Les Ballets Russes Sergei Diaghilev – were brought together. The play is an exploration of that dinner party and the much anticipated meeting of literary figures Proust and Joyce.
With francophone performances by David Arveiller, Guy Eiferman, Christine Fonsale Rogerson, Matthew T. Carlson, David Serero, Guillaume Sirvent, and  Jeff El-Eini. Produced by Ange Berneau and Philippe Orawski.
SERGEI DIAGHILEV (1872-1929)               David Arveiller
SYDNEY SCHIFF (1868-1944)                     Robert Adrian
VIOLET SCHIFF (1874-1962)                       Christine Fonsale Rogerson
JAMES JOYCE (1882-1941)                            Matthew T. Carlson
MARCEL PROUST (1871-1922)                     David Serero
IGOR STRAVINSKY (1882-1971)                  Guillaume Sirvent
PABLO PICASSO (1881-1973)                        Jeff El-Eini
In French. Free and open to the public. No RSVP necessary
---
Debbie Wiess, author of the play, is a Boston-based writer who writes in French, as well as English.  She has created a wide variety of projects for stage and screen, and poems, in both languages.  Her work has been presented throughout the US and internationally.  In addition to writing, she directs and produces projects and events, and is actively involved in arts and culture.  This play was inspired by reading she did summer 2012 about Marcel Proust and his times when she was getting ready to join the Proust Society of Boston.  The play has had a number of presentations in French and English, in the US and France.  This spring it will also be presented in French in Boston and Nashua, NH.  She also has written a poem about Proust in French and English.