Pina: Titaua Peu, Jeffrey Zuckerman, Nell Freudenberg in conversation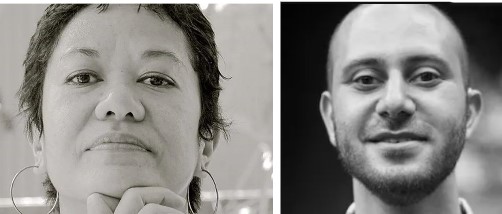 Join Tahitian author Titaua Peu and translator Jeffrey Zuckerman as they discuss the novel Peu's latest novel Pina (Restless Books). The conversation will be moderated by Nell Freudenberger.
Winner of the 2017 Eugène Dabit Prize & the 2019 French Voices Grand Prize
From award-winning Tahitian author Titaua Peu comes Pina, a devastating novel about a family torn apart by secrets and the legacy of colonialism and held together by nine-year-old Pina, a girl shouldering the immeasurable weight of her family's traumas.
Elegantly translated from the French by Jeffrey Zuckerman, Pina introduces a bold and profoundly humane anticolonial writer. It's a gut punch of a novel that traces the history of a family, an island, and a people, reaching back to a time before colonial rule and stretching into an imagined, hopeful future of independence and autonomy, offering the promise of redemption.
This event will take place on zoom, it is free. Click here to register. This conversation is graciously hosted by our friends at Community bookstore, and will be in English.
Titaua Peu is a Tahitian author known for her politically charged, realistic portrayal of the effects of colonialism on contemporary Polynesia. Peu's unsparing first novel, Mutismes, was published in 2003, sparking immediate scandal and making her the youngest-ever published Tahitian author at age twenty-eight. Pina was awarded the 2017 Eugène Dabit Prize, a first for Polynesian literature. She currently lives in Tahiti where she serves as the general manager of the municipality of Paea. (Photo credit: Martin Coeroli)
Jeffrey Zuckerman is a translator of French, including books by the artists Jean-Michel Basquiat and the Dardenne brothers, the queer writers Jean Genet and Hervé Guibert, and the Mauritian novelists Ananda Devi, Shenaz Patel, and Carl de Souza. A graduate of Yale University, he has been a finalist for the TA First Translation Prize and the French-American Foundation Translation Prize, and he was awarded the French Voices Grand Prize for his translation of Pina. In 2020 he was named a Chevalier in the Ordre des Arts et des Lettres by the French government. He currently lives in New York City. (Photo credit: Carl de Souza)
Nell Freudenberger is the author of three novels, most recently Lost and Wanted, and the short story collection, Lucky Girls. Her fiction and nonfiction has been published in the New Yorker, Harpers, and the New York Times. twitter: @nellfreuden