Performance / Live Readings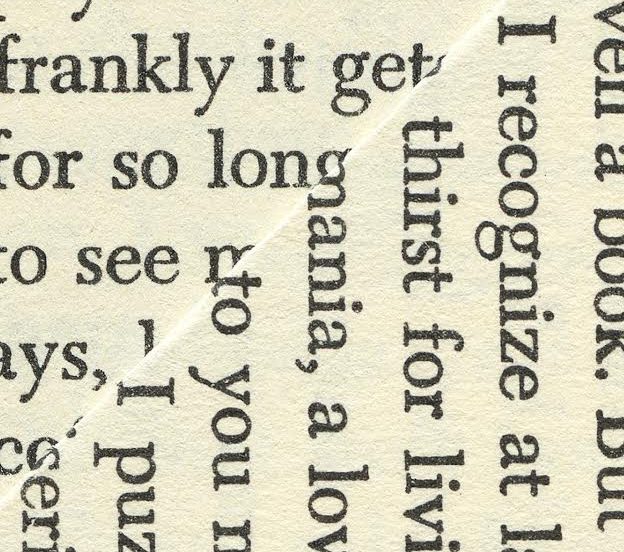 Albertine and the Cultural Services of the French Embassy are thrilled to announce a special literary event featuring Erica Baum, Marcelline Delbecq, and Kenneth Goldsmith.
Kenneth Goldsmith will present Theory, a unique collection of 500 short texts, ranging from poems, aphorisms, to short stories, creatively musing over the state of contemporary literature.

Baum will read from Dog Ear, an on-going series of photographs where the artist dog-eared pages from old paperbacks to form astonishing squares or rectangles of found prose poetry.

Finally, Delbecq's Poudre aux yeux, alibi (Smoke and Mirrors, Alibi) will tell a subjective history of photography, following the tempo of a carousel projecting an imageless slide show.

This event is guest curated by Béatrice Gross and organized in conjunction with the recent release of the following publications:
Erica Baum, Dog Ear (Ugly Duckling Presse, New York [2nd edition]); and The Naked Eye (Crèvecœur/œ, Paris & Bureau, New York)
Marcelline Delbecq, Silence Trompeur (Manuella Editions, Paris); and Oublier, voir (Fondation Cartier, Paris).
Kenneth Goldsmith, Theory, and Against Translation (Jean Boîte Editions, Paris)
In English. Free and open to the public. Please note that seating is limited and available on a first come, first served basis.
Credit Image: Cover Detail Dog Ear by Erica Baum, 2016, Ugly Duckling Presse, Brooklyn, NY
ERICA BAUM (b. 1961, New York) has become internationally known for her photographic work delving into and mining found sources of text and image. Recent museum exhibitions include Photo-Poetics: An Anthology, Kunsthalle Berlin and Solomon R. Guggenheim Museum; Reconstructions:
Recent Photographs and Video from the Met Collection, The Metropolitan Museum of Art, New York; Reloaded – Concrete Trends, Weserburg Museum of Modern Art, Bremen, Germany; After Dark, Mamco, Geneva, all 2015. Recent solo exhibitions include The Following Information, Bureau, New York, 2016 ; Stanzas, Galerie Crevecoeur, Paris, 2015; The Paper Nautilus, Bureau, New York, 2014; Erica Baum, Kunstverein Langenhagen, Langenhagen, Germany, 2013; Erica Baum: Blanks/Naked Eye Anthology, Melas Papadapoulos, Athens, 2013; and Naked Eye Anthology, Bureau, New York, 2012. Selected biennials include; AGORA 4th Athens Biennale, Athens, 2013 and the 30th Bienal de São Paulo: The Imminence of Poetics, São Paulo, Brazil, 2012. Her work is held in the public collections of the Whitney Museum of American Art, New York; Solomon R. Guggenheim Museum, New York; The Metropolitan Museum of Art, New York; Albright-Knox Art Gallery, Buffalo, New York; Centre national des arts plastiques, Paris; FRAC Ile de France, Paris, the Bury Art Museum & Sculpture Centre, Bury, UK; and the Yale Art Gallery, New Haven, Connecticut.
MARCELLINE DELBECQ is an artist and writer based in Paris. After studying photography in the United States and fine arts in France, she progressively distanced herself from the practice of image-making to focus on the cinematic and photographic potential of writing. Her work has been shown and performed internationally (Palais de Tokyo, Fondation Cartier, Musée de la Chasse, Centre Pompidou, Centre Pompidou-Metz in France, Fri Art and Mamco in Switzerland, Beirut Art Center, Mudam in Luxembourg, Art in General and School of Visual Arts in New York, The Moore Space in Miami, Kadist Foundation in San Francisco) and she was the French resident at Triangle, Brooklyn, in 2006-2007. She is currently working on a film-essay based on still photographs. She has published Un battement de cils, (Centre Pompidou-Metz, 2009) ; Pareidolie, (Mix, 2011) ; West I-VIIII, (Le Gac Press, 2013); Landscapes/Blackout with Marina Gadonneix, (RVB Books, 2011) ; Silence trompeur, (Manuella éditions, 2015) ; Camera, Manucius (2015) ; Oublier, voir, (Fondation Cartier and Manuella éditions, 2015) and is a regular contributor to Trafic, the legendary quatterly on cinema founded by critic Serges Daney. Her latest text for the 100th issue of Trafic will be published in the Fall and was inspired by Susan Howes' Sorting Facts: Nineteen Ways of Looking at Chris Marker (New Directions Poetry Pamphlets, 2013). She also teaches at both The Landscape Architecture School in Versailles and Paris College of Art.
BÉATRICE GROSS is a French independent curator and art critic based in New York. Gross has recently co-curated with Claire Gilman Drawing Dialogues: Selections from the Sol LeWitt Collection at The Drawing Center (New York, 2016) and curated Double Eye Poke. Lynda Benglis, Dan Flavin, Sol LeWitt, Bruce Nauman at kamel mennour (Paris, 2015); and organized a series of Sol LeWitt and LeWitt Collection exhibitions, as Adjunct Curator at Centre Pompidou-Metz (France, 2012-2013), and Guest Co-Curator at M-Museum Leuven (Belgium, 2012).
She is also Editorial and Curatorial Advisor at Mémoire Universelle (Brussels), a cross-disciplinary book series functioning as a subjective encyclopedia.
Recently, she has co-edited the exhibition catalogue Accrochage (Pinault Collection, Punta della Dogana, Venice, 2016) and has served as Editor and Director of Research of Sol LeWitt Wall Drawings Catalogue Raisonné (Artifex Press, New York, 2013-2015). She is the Editor of Sol LeWitt's extensive monographic book published by Centre Pompidou-Metz Editions (2012).
Her latest publications include: Off Frame. Counter-Frame in Marina Gadonneix; After the Image (Paris: RVB Books, 2015); The Invisible Man. From Skepticism to Paranoia: A Brief Survey of Predators, Photography, and the Birth of Modern Camouflage, in Mémoire Universelle, vol. II "Manimalisme" (Brussels: MU, 2014); From Icon to Text and Back Again: Ines Lechleitner's Metamorphoses in Ines Lechleitner; The Imagines (Berlin: Sternberg Press, 2014); Sol LeWitt and the (Re-)Birth of Wall Drawing in Auf Zeit/For the Time Being (Staatliche Kunsthalle Baden-Baden/Kunsthalle Bielefeld/Verlag der Buchhandlung Walther König, 2013).
MoMA's first poet laureate, founder and editor of UbuWeb, professor of Uncreative Writing at the University of Pennsylvania and the host of NYC-area radio station WFMU for fifteen years, KENNETH GOLDSMITH is a leading voice in the contemporary creative world.Kenneth Goldsmith's Theory offers an unprecedented reading of the contemporary world: 500 texts – from poems and musings to short stories – printed on 500 pages assembled in the form of a ream of paper. Curated by the author-poet, this unique collection maps out the various issues and trends in contemporary literature in a world currently being shaken up by everything online and digital, and calls for the reinvention of creative forms. Kenneth Goldsmith's writing has been called "some of the most exhaustive and beautiful collage work yet produced in poetry" by Publishers Weekly.
His new book Against Translation, has been published by Paris-based publishing house Jean Boîte Éditions and will be presented during Moma Art Book Fair 2016.
JEAN BOÎTE editions is a publishing house founded by Mathieu Cénac and David Desrimais in September, 2011. Jean Boîte not only publishes books but also "boîtes": real housing volumes designed to store and classify the books. Each boîte is the assurance of a fine understanding for thematic or monographic subjects. When the boîte has reached its capacity of books, that concludes the item. Jean Boîte loves artists, poets, photographers, freethinkers and critics, with the intention of bringing them together in a soft constraint: the boîte, a true laboratory of topical curiosity.
Recent publications: Jon Rafman, The Nine Eyes of Google Street View, 2011; João Rocha & Marco Bohr, Kim Jong Il Looking at Things, 2012 ; King Zog, Google, Volume 1, Collecting Images Today, This book contains the first Google Image for every word in the dictionary, 2013; Kenneth Goldsmith, THEORY (English edition), 2015; Kenneth Goldsmith, Against Translation, 8 Books in A Box, Worldwide Edition (Arabic, Chinese, German, English, Spanish, French, Japanese, Russian), 2016.