Open House New York at The Payne Whitney Mansion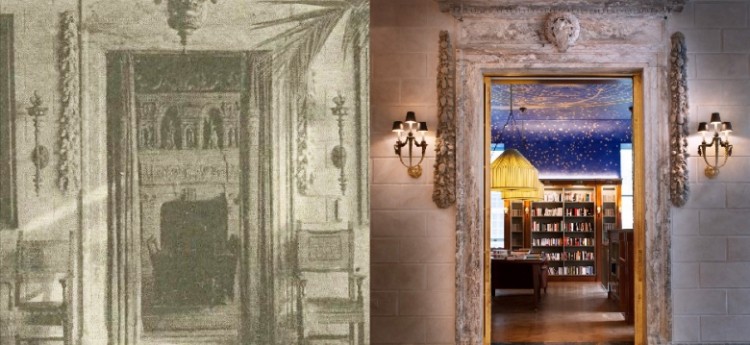 Tours will take visitors through the first three floors of the French Embassy's Payne Whitney Mansion, a rare example of Gilded Age architecture in New York.
Highlights include a replica of the Young Archer, attributed to Michelangelo in 1997; the Venetian Room, which features an exquisite handcrafted porcelain flowers and European antique furniture; Albertine Books, the French bookstore located within the Cultural Services, with interiors conceived by acclaimed French designer Jacques Garcia that includes a hand-painted mural on its second floor; the gilded, mirrored doors of the Marble Reception Room and adjacent Ballroom; Autumn(1902), an original stained glass window by John La Farge, American painter, muralist, and stained glass window-maker; and Artists' Time, a selection of works by France-based artists Davide Balula, Gilles Barbier, Valérie Belin, Marc Desgrandchamps, Thomas Fougeirol, Emmanuel Régent, Sophie Ristelhueber, Barthélémy Toguo, Jacques Villeglé, and Marine Wallon, currently on loan from members of the Comité Professionnel des Galeries d'Art network.
LOCATION: 972 Fifth Avenue (at 79th Street), New York, NY 10075
TIME: 10am, 11am, 12pm, and 1pm. Tours are 30 minutes long
COST: Registration will be available at the OHNY website; a $5 registration fee will be charged.
The Cultural Services of the French Embassy will host an open house from 2pm to 6pm. During this time, the first, second and third floors of the Payne Whitney Mansion will be open to the public. Visitors will have the opportunity to explore the mansion at their own pace. Complimentary refreshments will be provided.
LOCATION: 972 Fifth Avenue (at 79th Street), New York, NY 10075
TIME: 2pm-6pm
COST: Free. Further details available here.