On Michel Houellebecq's Sérotonine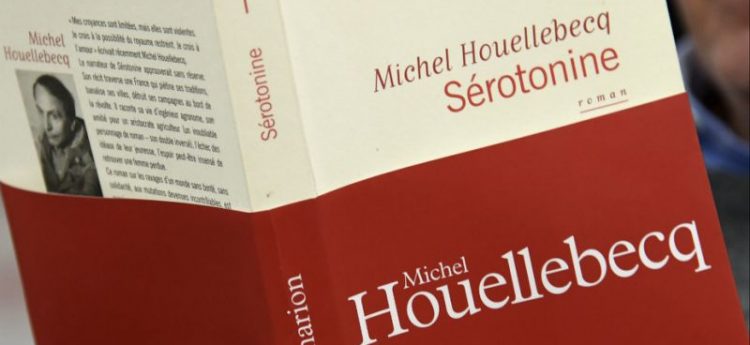 Join author and Harper's Magazine publisher John R. MacArthur, author and n+1 co-founder Marco Roth, and author Catherine Cusset for a riveting conversation on Michel Houellebecq's new novel, Sérotonine (Flammarion). The conversation will be moderated by Adam Hocker.
Sérotonine is a darkly humorous and deeply cynical novel about the loss of desire and the despair of contemporary society written in Houellebecq's inimitable style.
In English. Free and open to the public. No RSVP necessary.
Follow the event on Facebook.
Watch on Livestream on January 31, 2019 at 6:30PM EST .
---
Catherine Cusset is the author of thirteen novels, including Le problème avec Jane (Grand Prix littéraire des lectrices d'Elle 2000), Un brillant avenir (Prix Goncourt des Lycéens 2008), L'Autre qu'on adorait (finalist for Prix Goncourt 2016), and Vie de David Hockney (Gallimard, 2018), The English translation of Vie de David Hockney is forthcoming in the US with Other Press). Cusset's work has been translated into fifteen languages. The Story of Jane was published in the US by Simon and Shuster in 2001.
John R. (Rick) MacArthur is president and publisher of Harper's Magazine and an award-winning journalist and author. Under his leadership, the magazine has received nineteen National Magazine Awards, the industry's highest recognition. He writes regularly for The Spectator (U.K.) and writes a column in French, for Montreal's Le Devoir newspaper. His critically acclaimed book — the first of many — Second Front: Censorship and Propaganda in the Gulf War, won the Illinois ACLU's 1992 Harry Kalven Freedom of Expression award and was a New York Times notable book.
Marco Roth is a co-founder and editor of n+1 magazine. His work has appeared in Dissent, New York Times, Harper's, The London Review of Books, The Times Literary Supplement and the Nation. His memoir, The Scientists: A Family Romance, about his father's death and "truths and limitations in literature", came out in 2012.