My Emily Dickinson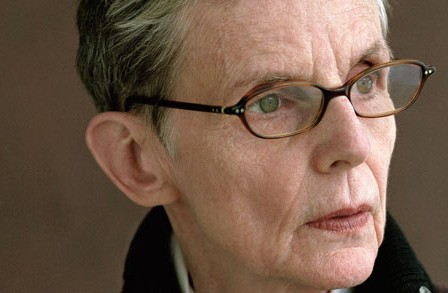 "My Emily Dickinson is a critical, scholarly, poetic, subversive, mordant, brilliant book written by the poet Susan Howe. It is by far the best work about our greatest poet I have ever read, and I have read many."  —Siri Hustvedt
"Howe's brilliant, idiosyncratic essay is—like much of her work—a combination of fierce rigor and deep generosity. Howe unlocks." —Ben Lerner
On August 2, 2017, join poet and essayist Susan Howe, professor and translator Antoine Cazé, and publishers Barbara Epler and Isabella Checcaglini as they discuss Howe's My Emily Dickinson on the occasion of its publication in French with Ypsilon publisher.
In English. Free and open to the public. No RSVP necessary.
---
Author of more than a dozen books of poetry and two of literary criticism, Susan Howe's recent collection of poems That This, published by New Directions won the Bollingen Prize in 2011. Her earlier critical study, My Emily Dickinson, was re-issued in 2007 with an introduction by Eliot Weinberger. Three CDs in collaboration with the musician/composer David Grubbs, Thiefth and Souls of the Labadie Tract, and Frolic Architecture. were released on the Blue Chopsticks label (2005; 2011). 
Howe held the Samuel P. Capen Chair in Poetry and the Humanities at the State University New York at Buffalo until her retirement in 2007. The recipient of a Guggenheim Fellowship, she was elected to the American Academy of Arts and Sciences in 1999 and served as a Chancellor to the Academy of American Poets between 2000-2006. In fall, 2009 she was awarded a Fellowship to the American Academy at Berlin. Grenfell Press published a fine press edition of "Frolic Architecture with photographic prints by James Welling in 2009.
Recently she was an Artist in Residence at the Isabella Stewart Gardner Museum in Boston. In October, 2013 her word collages were exhibited at the Yale Union in Portland, Oregon, and in the Whitney Biennial Spring, 2014.
A limited press edition of Tom Tit Tot (the word collages which amount to a series poem) with art work by R.H. Quaytman has just been published by MoMA in New York, and Spontaneous Particulars: The Telepathy of Archives, (2014) published by Christine Burgin and New Directions. 
In 2017, The Poetry Society of America has awarded Susan Howe the Frost Medal, the organization's highest award, presented annually for distinguished lifetime achievement in poetry.
Antoine Cazé is a professor at the Universite Paris Diderot. Specialized in American poetry and after a PhD on Emily Dickinson, he has taken an interest in 20th- and 21st-century poetry. He runs the Observatoire de la littérature américaine (ODELA) at Paris Diderot and is regularly published in academic reviews.
Barbara Epler has worked at New Directions since 1984 and is now publisher and editor in chief.

Isabella Checcaglini is the founder of Ypsilon, publisher for the French edition of My Emily Dickinson. Ypsilon was born in September 2017, out of the desire to publish the original manuscript of Stéphane Mallarmé's A Roll of The Dice with Mallarme's very own edits. Ypsilon's books font and format were chosen accordingly, as well as the illustrations by Odilon Redon. Their mission statement came naturally as a result to this original decision: their catalog alternates literary work and books on typography, and more recently, a collection of illustrated books has joined their list.