Edwidge Danticat & Kaiama L. Glover On Marie Vieux-Chauvet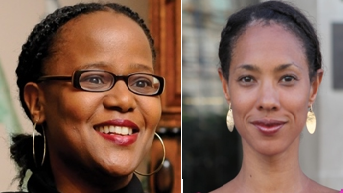 Born in Port-au-Prince in 1916, Marie Vieux-Chauvet is widely considered one of the greatest writers of the francophone Caribbean. Dance on the Volcano (Archipelago Books) will be the second of her works to be published in English.
Join Haitian–American novelist Edwidge Danticat, and Columbia professor and translator Kaiama L. Glover as they discuss Vieux-Chauvet's masterful novel.
Set in late-18th century Haiti, Dance on the Volcano follows the extraordinary career of Minette, who uses her prodigious voice to cross racial barriers. Her talent brings her an opportunity to perform at the Theater of Port-au-Prince, an honor previously reserved only for whites. However, once the curtain falls she finds herself back to life as normal. Praised but unpaid, applauded but shut out, Minette develops a political and racial conscience that that will not rest as long as slavery still exists on the island. Her involvement soon leads her to butt heads with the man she loves, a free black man as cruel to his slaves as many white landholders, and to cross paths with the future heroes of the revolution.
In English. Free and open to the public. No RSVP necessary.
---
 Kaiama L. Glover received a B.A. in French History and Literature and Afro-American Studies from Harvard University and a Ph.D. in French and Romance Philology from Columbia University. She is now an associate professor of French and Africana Studies at Barnard College, Columbia University. Her book, Haiti Unbound: A Spiralist Challenge to the Postcolonial Canon, explores the Haitian Spiralist movement. She sits on the editorial boards of the Romanic Review and Small Axe and regularly contributes to The New York Times Book Review. In addition to Dance on the Volcano, she has translated Frankétienne's Ready to Burst (Archipelagos 2013) and René Depestre's Hadriana in All My Dreams (Akashic 2017), and has been awarded fellowships from The National Endowment for the Humanities, The National Endowment for the Arts, The Fulbright Foundation, The Mellon Foundation, and the New York Public Library.
Edwidge Danticat was born in Haiti and moved to the United States when she was twelve. She is the author of several books, including Breath, Eyes, Memory, an Oprah Book Club selection; Krik? Krak!, a National Book Award finalist; and The Farming of Bones, an American Book Award winner. She is also the editor of The Butterfly's Way: Voices from the Haitian Dyaspora in the United States and The Beacon Best of 2000: Great Writing by Men and Women of All Colors and Cultures.
Danticat earned a degree in French Literature from Barnard College, where she won the 1995 Woman of Achievement Award, and later an MFA from Brown University.