A Conversation with Michel Houellebecq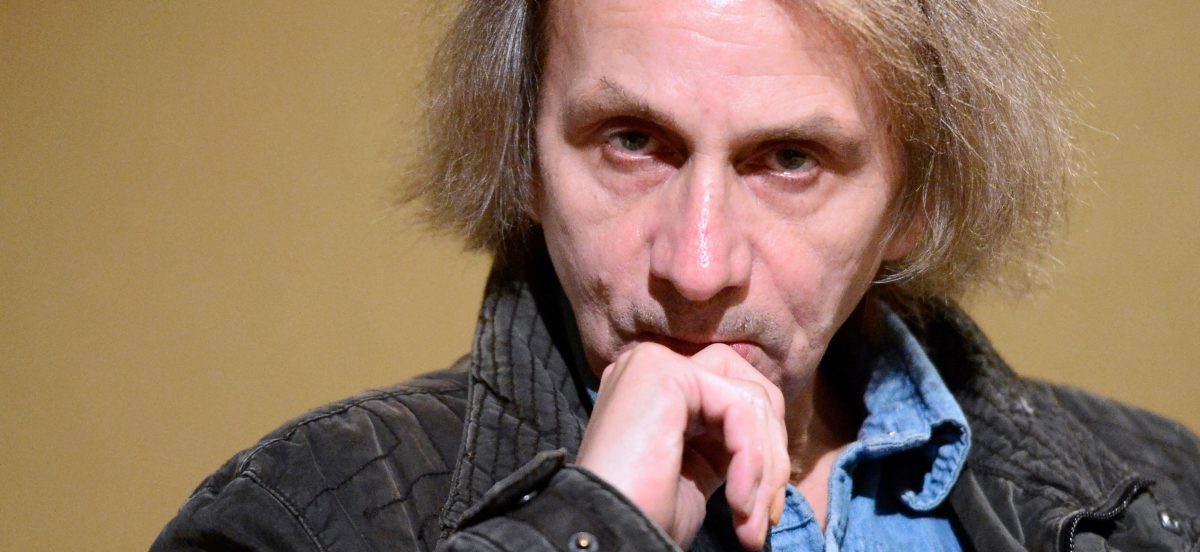 On the occasion of the opening of the exhibition  Michel Houellebecq: French Bashing/New York on view at the gallery Venus Over Manhattan June 2-August 4, 2017, French author, artist, filmmaker, and poet Michel Houellebecq will join us for a conversation with Adam Lindemann, founder of Venus Over Manhattan and Venus Over Los Angeles. The conversation will be moderated by The Paris Review publisher Susannah Hunnewell.
In English. Free and open to the public with RSVP. RSVP here. Please note that seating is limited and available on a first-come, first-served basis.
---
Michel Houellebecq is a French author, artist, filmmaker, and poet. Having written poetry and a biographical essay on H. P. Lovecraft, he published his first novel, Extension du domaine de la lutte (Whatever, Serpent's Tail) in 1994. Les Particules élémentaires (Elementary Particules, Vintage) followed in 1998, Plateforme (Platform, Vintage) in 2001, and La Possibilité d'une île (The Possibility of an Island, Vintage) in 2005 . In 2010 he published the Prix Goncourt-winning La Carte et le Territoire (The Map and The Territory, Vintage)  and, in 2015, Soumission (Submission, FSG). 
Houellebecq is also the author of several collection of poetry including Rester vivant, méthode, La Différence (1991), La Poursuite du bonheur, La Différence (1992), Le Sens du combat, Flammarion (1996), Interventions, Flammarion (1998), Renaissance,  Flammarion (1999), Lanzarote (2000, trans. by Frank Wynne, 2002), and Configuration du dernier rivage, poèmes, Flammarion (2013).
Susannah Hunnewell is a graduate from Harvard University. As former Paris editor at the Paris Review, she interviewed  Kazuo Ishiguro, Harry Mathews, Michel Houellebecq, and Emmanuel Carrère. In 2015, Hunnewell  has been named publisher of the Paris Review.
Adam Lindemann is recognized as a tastemaker in collecting and investing in 20th century art and design. He is the founder of Venus Over Manhattan, as well as Venus Over Los Angeles, the influential galleries devoted to exhibitions both historic and contemporary, which have garnered critical acclaim for their unique and iconoclastic programs. Before this, Lindemann was also known for his popular art column in The New York Observer, which provided an insightful and often ironic look into today's art market. He is the author of two of Taschen's bestselling art books, Collecting Contemporary, and Collecting Design. Lindemann is perhaps best known, however, for setting records in the contemporary art auctions. He has set all-time records for work by Jean-Michel Basquiat, Jeff Koons, and Takashi Murakami, and was recently interviewed by Charlie Rose about collecting and investing in the art market, just before Basquiat's Untitled Skull (1982) made a new world record, making him the most expensive American artist at auction.