Orbits of The Heart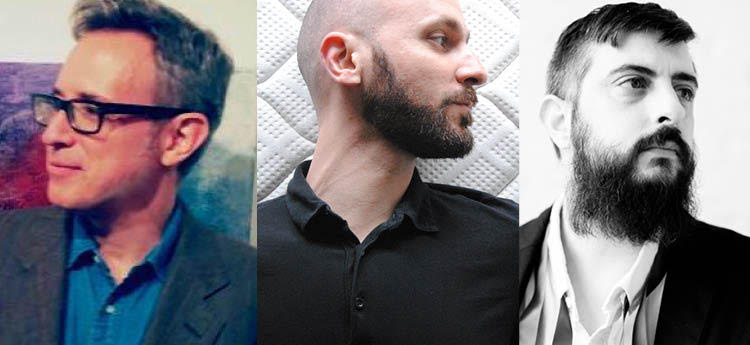 Join us for a conversation on Orbits of The Heart with Cédric Duroux, author of the debut novel Les Animaux sentimentaux (Sentimental Animals) and Patrick Ryan, author of The Dream Life of Astronauts.
The evening will start with a musical performance by singer, songwriter, and musician, Scott Matthew.
In English. Free and open to the public. No RSVP necessary.
Credit Photo: Yann Dante
---
Cédric Duroux was born in France in 1981. He studied English in Lyon and dedicated his Masters papers to Robert McLiam Wilson's Eureka Street and to Armistead Maupin's Tales of The City book series. From 2005 to 2016, he worked for the Villa Gillet, a cultural center dedicated to literature and ideas. He was notably the program director for two international multidisciplinary festivals: Walls and Bridges: transatlantic insight (in New York), and Mode d'Emploi : un festival des idées (in France). Cédric recently created his own agency, October Octopus, and is currently curating events for several institutions in France and abroad. Les Animaux sentimentaux (Buchet/Chastel, 2016) is his first novel.
Patrick Ryan is the author of The Dream Life of Astronauts (long-listed for The Story Prize and named one the Best Books of the Year by the St. Louis Times-Dispatch, LitHub, Refinery 29, and Electric Literature) and Send Me (a finalist for The Center for Fiction's First Novel Prize). He is also the author of several novels for young adults. His fiction has appeared in many places over the years and was included in The Best American Short Stories. His nonfiction has been published by Granta and is included in Tales of Two Cities and other anthologies. A recipient of a National Endowment for the Arts Fellowship in Fiction, Patrick is the former associate editor of Granta and is now the editor-in-chief of One Story. He lives in New York City.
The Singer/ Songwriter Scott Matthew was born in Queensland, Australia but lives in New York. In 2006 he has received a lot of attention from John Cameron Mitchell`s film SHORTBUS. He wrote the theme song In the End in addition to 5 more songs performed in the film by himself and featured on the soundtrack. The gifted Song poet has earned high respect among critics and fans alike since his self-titled debut in 2008. His five solo albums have made him stand out from the crowd especially as a songwriter with his highly emotional songs.
In June 2013 he released with the covers-album Unlearned his personal hit parade. In a wide variety of songs he discovered, felt and worked out the emotional core with so much respect, that it becomes obvious, that these cover versions are not foreign songs at all, but in a way his very own, original material. What comes of the originally quite trivial Pop smash I Wanna Dance With Somebody by Whitney Houston is a wonderful, piano-dominated ballad. Most recently Scott has released a collaborative album of songs with Portuguese composer Rodrigo Leao , entitled Life Is Long.