Joyce Carol Oates & Leïla Slimani at Albertine Books!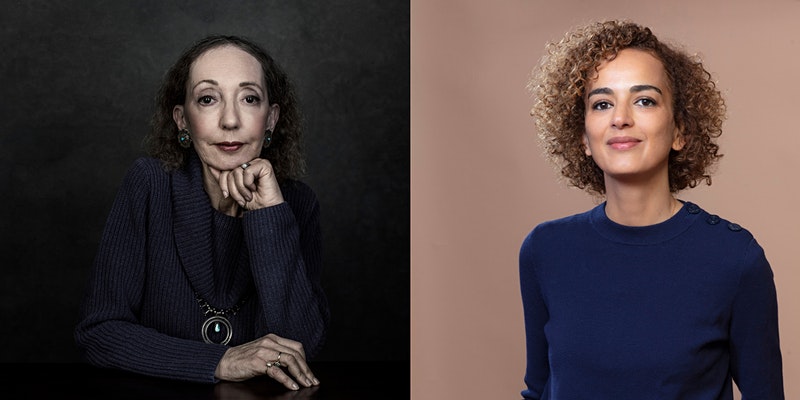 Joyce Carol Oates & Leïla Slimani will discuss their literary works with The New York Times journalist Joumana Khatib.
We're thrilled to welcome authors Joyce Carol Oates and Leïla Slimani, some of contemporary literature's strongest voices, to Albertine Books for a conversation on May 20!
Neither of the writers shies away from addressing societal issues in their work, whether fictional or not, and though their backgrounds and preoccupations might be different, they have both become major literary figures with their powerful words and acclaimed writings.
Joumana Khatib will facilitate this discussion, exploring the connections between art and politics and the imaginative process of both authors.
This event will be in English and is free with RSVP. Please Click here to register. Proof of vaccination and masks will be required.
JOYCE CAROL OATES is a recipient of the National Humanities Medal, the National Book Critics Circle Ivan Sandrof Lifetime Achievement Award, the National Book Award, and the 2019 Jerusalem Prize for Lifetime Achievement, and has been nominated several times for the Pulitzer Prize. She has written some of the most enduring fiction of our time, including the national best sellers We Were the Mulvaneys; Blonde; and the New York Times bestseller The Falls, which won the 2005 Prix Femina in France. In 2020 she was awarded the Cino Del Duca World Prize for Literature. She is the Roger S. Berlind '52 Distinguished Professor of the Humanities emerita at Princeton University and has been a member of the American Academy of Arts and Letters since 1978. Her next novel, Babysitter, will be published by Knopf in August 2022.
LEILA SLIMANI is the bestselling author of The Perfect Nanny, one of The New York Times Book Review's 10 Best Books of 2018, for which she became the first Moroccan woman to win France's most prestigious literary prize, the Goncourt. Her first novel, Adèle, about a sex-addicted woman in Paris, won the La Mamounia Prize for the best book by a Moroccan author written in French and gave rise to her nonfiction book Sex and Lies: True Stories of Women's Intimate Lives in the Arab World. A journalist and frequent commentator on women's and human rights, Slimani spearheaded a campaign–for which she won the Simone de Beauvoir Prize for Women's Freedom–to help Moroccan women speak out, as self-declared outlaws, against their country's "unfair and obsolete laws." She is French president Emmanuel Macron's personal representative for the promotion of the French language and culture and was ranked #2 on Vanity Fair France's annual list of the Fifty Most Influential French People in the World. Born in Rabat, Morocco, in 1981, she now lives in Lisbon with her French husband and their two young children. Her most recent novel is In The Country Of Others, the first installment of a planned trilogy fictionalizing the author's family history.