POSTPONED: In the Company of Beckett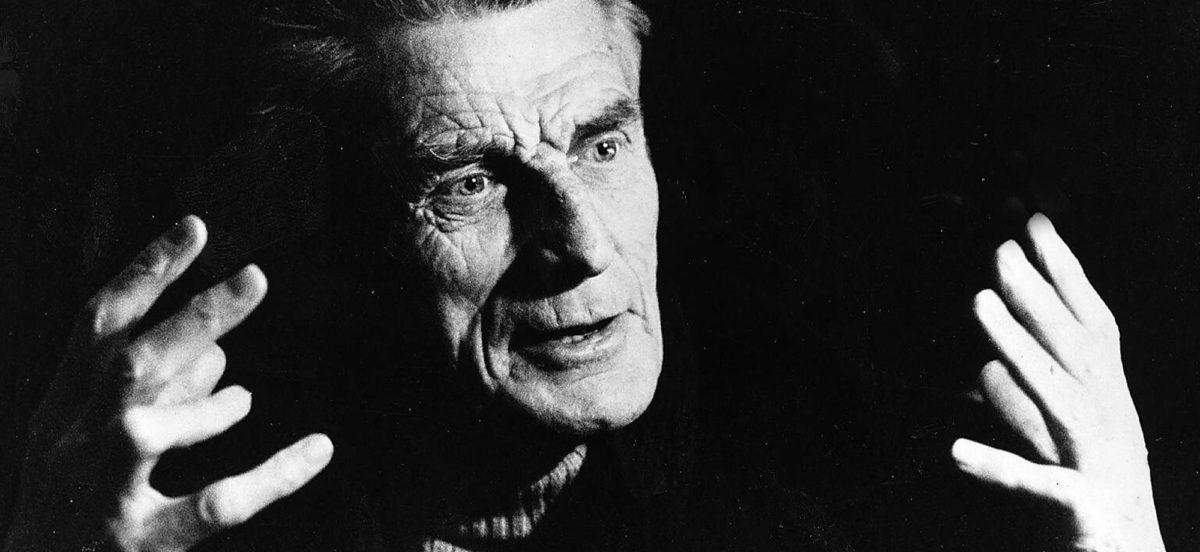 Please note that this event has been postponed and will be rescheduled for Fall 2020.
Join Paul Auster, Lisa Dwan, and Charles S. Klabunde as they discuss En compagnie de / In the Company of Beckett, a book composed of texts by internationally renowned artists that commemorate Beckett's life 30 years after his death in 1989. The conversation will be moderated by Lois Oppenheim, editor of the book.
Their tribute will offer evidence of the high esteem in which they hold his textual and theatrical achievements, and reveal the myriad ways in which Beckett's artistry has touched their own, the way Beckett remains present in what they do on the stage, on the page, on the canvas.
The event will provide the perfect occasion for curious bibliophiles to explore our Cabinet précieux, stocked with more than 30 rare books by Samuel Beckett. As a bilingual writer, Beckett embodies the philosophy of our French bookstore in the United States.
Click here to purchase In the Company of Beckett with us.
---
Paul Auster, "a starry presence on the international literary scene for decades," as Paul Laity wrote in The Guardian –– met Beckett in Paris in the '70s and began a long correspondence with him. Since that time, he has written a number of pieces on Beckett's work and was the editor of The Centenary Editions published by Grove Press in 2006.
Lisa Dwan, hailed by Ben Brantley in The New York Times as "the nonpareil interpreter of Samuel Beckett," is an award winning Irish actress, director and writer. Her one-woman Beckett plays, The Beckett Trilogy and No's Knife, have sold out all over the world. Dwan recently starred in Harold Pinter's The Lover and The Collection at STC in Washington, D.C. where she won the 2019 Emery Battis Award for Acting Excellence. Her recent theater includes Texts for Nothing (White Light Festival, Lincoln Center), and Not I (Royal Court Theatre London). She recently completed a documentary for the BBC on Dante and developed a new theater piece with Colm Tóibín based on Antigone. Currently, Dwan is working on a new version of Medea, written for her by Margaret Atwood, and with Salman Rushdie on a new version of Helen of Troy.
Charles S. Klabunde found early success with the Metropolitan Museum of Art's acquisition of two of his works and the acquisition of his work soon after by the Museum of Modern Art and other major museums. He was granted a Guggenheim Fellowship in 1970. Klabunde has had numerous solo and group exhibitions. His work has been exhibited internationally at the Whitney Museum; the Philadelphia Museum of Art; Borgia Palace – Vatican City; the Museo de Arte Moderno, Colombia; the Brooklyn Museum and elsewhere. In 1984, in conjunction with New Overbrook Press, Klabunde collaborated with Samuel Beckett, creating seven of his engraved images for a 250 limited edition of a large portfolio of Beckett's The Lost Ones.
Lois Oppenheim is University Distinguished Scholar, Professor of French, and Chair of the Department of Modern Languages and Literatures at Montclair State University. She has authored or edited fourteen books, the most recent being For Want of Ambiguity: Order and Chaos in Art, Psychoanalysis, and Neuroscience (co-authored) and Imagination from Fantasy to Delusion (awarded the Courage to Dream Prize from the American Psychoanalytic Association). Other titles include The Painted Word: Samuel Beckett's Dialogue with Art; Directing Beckett; Samuel Beckett and the Arts: Music, Visual Arts, and Non-Print Media; Psychoanalysis and the Artistic Endeavor: Conversations with Literary and Visual Artists; and A Curious Intimacy: Art and Neuropsychoanalysis.