Free as Gods: How The Jazz Age Reinvented Modernism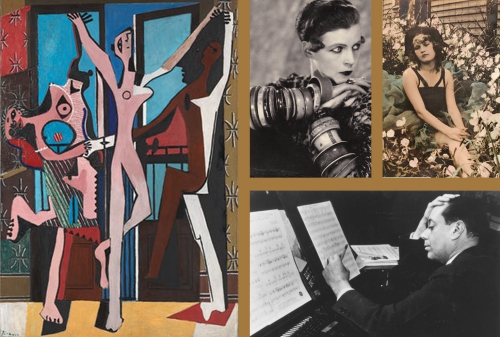 Among many art, music and literature lovers, particularly devotees of modernism, the expatriate community in France during the Jazz Age represents a remarkable convergence of genius in one place and period—one of the most glorious in history. Drawn by the presence of such avant-garde figures as Joyce and Picasso, artists and writers fled the Prohibition in the United States and revolution in Russia to head for the free-wheeling scene in Paris, where they made contact with rivals, collaborators, and a sophisticated audience of collectors and patrons. The outpouring of boundary-pushing novels, paintings, ballets, music, and design was so profuse that it belies the brevity of the era (1918–1929).
Join author Charles A. Riley as he offers a fresh examination of both canonic and overlooked writers and artists and their works, drawing on unpublished albums, drawings, paintings, and manuscripts.  Riley will illuminate social interconnections and artistic collaborations among the most famous—Fitzgerald, Hemingway, Gershwin, Diaghilev, and Picasso—and goes a step further, setting their work alongside that of African Americans such as Sidney Bechet, Archibald Motley Jr., and Langston Hughes, and women such as Gertrude Stein and Nancy Cunard. Riley's biographical and interpretive celebration of the many masterpieces of this remarkable group shows how the creative community of postwar Paris supported astounding experiments in content and form that still resonate today.
IN ENGLISH. FOR ALBERTINE AND ART DECO SOCIETY MEMBERS EXCLUSIVELY. RSVP REQUIRED.
RSVP for Art Deco members are available here. Albertine members are welcome to RSVP at rsvp@albertine.com
---
Charles A. Riley II, PhD is an arts journalist, curator and professor at the City University of New York. He is the author of twenty-eight books on art, architecture and public policy, including The Art of Lincoln Center (Wiley), as well as the essay for the recently published Opera Portraits, an art project that involved photographing singers backstage at major opera houses. He has also written The Jazz Age in France, The Art of Peter Max, Arthur Carter, Ben Schonzeit (all published by Abrams) as well as Aristocracy and the Modern Imagination, The Saints of Modern Art, and Color Codes (all from the University Press of New England), and Sacred Sister (in collaboration with the noted avant-garde theater director Robert Wilson). He is curator-at-large at the Nassau County Museum of Art and has presented exhibitions devoted to Picasso, Surrealism and contemporary art, and has written dozens of exhibition catalogue essays and his articles on art have appeared in several magazines, including Art & Auction, Art & Antiques and Antiques and Fine Art.
Charles A. Riley is a former reporter for Fortune magazine and former editor-in-chief of WE magazine, and has participated in cultural policy and educational think tanks internationally. A graduate (summa cum laude) of Princeton University, he received his PhD from The Graduate Center of City University of New York. He resides in Manhattan and Cutchogue, New York.