Guantánamo Kid with Laurie Anderson and Jérôme Tubiana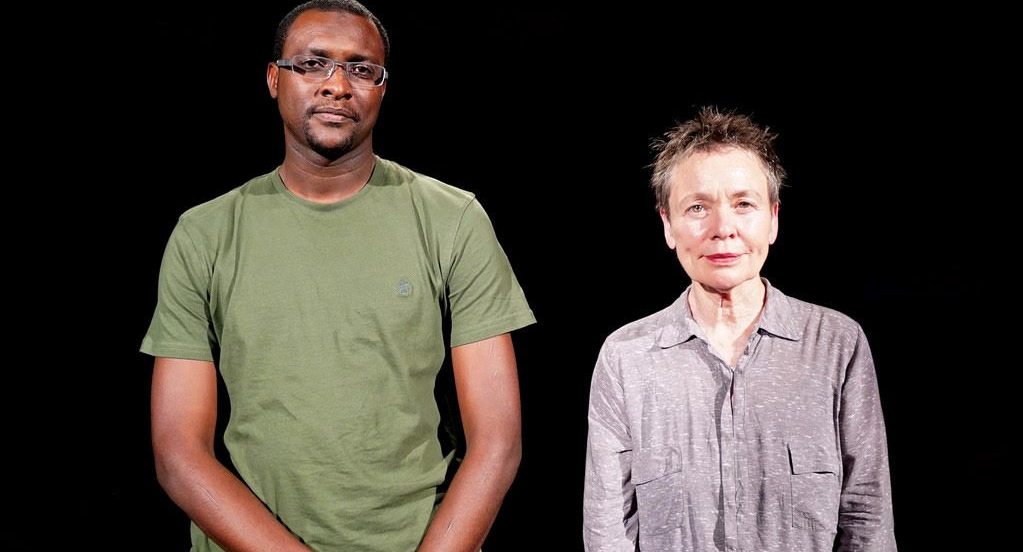 Mohammed El-Gharani was no more than 14 when he left his native country, Saudi Arabia, to study English in Pakistan. Shortly after the 9/11 attacks, he was arrested and transferred to Guantánamo Bay. He was one of the camp's youngest prisoners, and one of the few black detainees of African descent. It took eight years for his innocence to be recognized.
In 2015, multimedia artist Laurie Anderson collaborated with Mohammed El-Gharani on an installation and performance piece, Habeas Corpus, which took place at the Park Avenue Armory. Expanding upon her work fusing storytelling and technology, the project interweaved film, sculpture, music, and video to examine El-Gharani's story. The result was a groundbreaking work that explored themes of lost identity, memory, and the resilience of the human body and spirit.
French writer Jérôme Tubiana first met Mohammed El-Gharani in 2011, two years after his release from the Guantánamo. They met every afternoon for two weeks, after which Tubiana turned their conversations into a diary piece for the London Review of Books. Now, in collaboration with El-Gharani, he has written a graphic novel, Guantánamo Kid, which is illustrated by cartoonist Alexandre Franc and endorsed by Amnesty International.
Laurie Anderson and Jérôme Tubiana come together to discuss Mohammed El-Gharani's astonishing – and deeply troubling – story.
In English. Free and open to the public. No RSVP necessary. Please note that seating is limited, and will be available on a first-come, first-served basis.
---
Laurie Anderson is one of America's most renowned – and daring – creative pioneers. Known primarily for her multimedia presentations, she has cast herself in roles as varied as visual artist, composer, poet, photographer, filmmaker, electronics whiz, vocalist, and instrumentalist.
Jérôme Tubiana is an independent journalist and researcher. An expert on conflicts and migrations in the Sahel and the Horn of Africa, he is the author of several books and many articles, notably in the London Review of Books, Foreign Affairs, Foreign Policy, Le Monde diplomatique and XXI.