Gravity and Center: Henri Cole and Joyce Carol Oates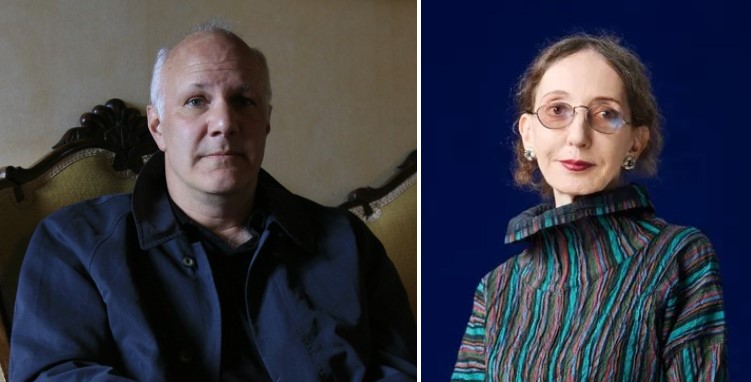 On April 13 at 6pm, join Henri Cole, one of America's finest poets, and internationally acclaimed novelist, essayist, and poet Joyce Carol Oates for an evening of conversation and readings of Cole's latest collections of poems, Gravity and Center, just published by FSG.
The poems collected in this volume represent thirty years of work throughout which Henri Cole has mastered his own version of the sonnet. As he explains in his afterword:
"I believe a poem is a sonnet if it behaves like one, and this doesn't mean rhyming iambic pentameter lines. More important is the psychological dimension, the little fractures and leaps and resolutions the poem enacts."
This event will be in English. It is free with RSVP. Click here for ticket(s).
HENRI COLE was born in Fukuoka, Japan, in 1956. He has published ten previous collections of poetry, including Touch and Pierce the Skin, and a memoir, Orphic Paris (NYRB). He has received many awards for his work, including the Jackson Poetry Prize, the Kingsley Tufts Poetry Award, the Rome Prize, the Berlin Prize, the Lenore Marshall Poetry Prize, and the Award of Merit Medal for Poetry from the American Academy of Arts and Letters. He teaches at Claremont McKenna College.
JOYCE CAROL OATES is a recipient of the National Humanities Medal, the National Book Critics Circle Ivan Sandrof Lifetime Achievement Award, the National Book Award, and the 2019 Jerusalem Prize for Lifetime Achievement, and has been nominated several times for the Pulitzer Prize. She has written some of the most enduring fiction of our time, including the national best sellers We Were the Mulvaneys; Blonde; and the New York Times bestseller The Falls, which won the 2005 Prix Femina in France. In 2020 she was awarded the Cino Del Duca World Prize for Literature. She is the Roger S. Berlind '52 Distinguished Professor of the Humanities emerita at Princeton University and has been a member of the American Academy of Arts and Letters since 1978. Her novel, Babysitter, was published by Knopf in August 2022.