Gone Missing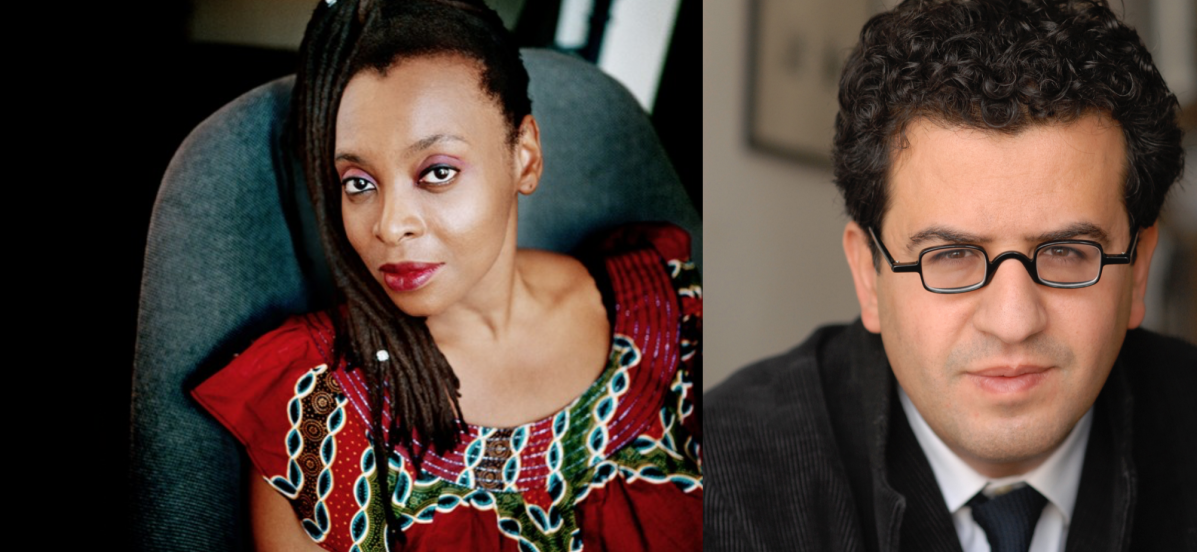 On Tuesday, September 18 at 6:30pm, join Cameroonian author Léonora Miano, Libyan writer Hisham Matar and Wall Street Journal literary critic Sam Sacks as they discuss the challenges of writing about those who have gone missing, based on their respective books, Season of Shadow (winner of the 2013 Femina Prize, Seagull Books), and The Return: Fathers, Sons, and the Land in between (winner of the 2017 Pulizter Prize in biography, Random House).
In Season of Shadow, Léonora Miano presents a world on the brink of disappearing – a pre-colonial civilization with roots that stretch back for centuries. One day, a group of villagers finds twelve of their people missing. Where have they gone? Who is responsible? A collective dream, troubling a group of mothers in a communal dwelling, may hold some of the answers, as the women's missing sons call to them in terror. At the same time, a thick shadow settles over the huts, blocking out the light of day. It is the shadow of slavery, which will soon grow to blight the whole world? Miano renders this brutal story in a deliberately strange, dreamlike prose, befitting a situation that is, on its face, all but impossible for the villagers to believe.
From Man Booker Prize and National Book Critics Circle Award finalist Hisham Matar, The Return is a memoir of his journey home to his native Libya in search of answers to his father's disappearance. Winner of the 2017 Pulitzer Prize for biography/autobiography, the PEN/Jean Stein Book Award, France's Prix du livre étranger, and a finalist for the Orwell Book Prize and the 2016 National Book Critics Circle Award, The Return is a brilliant and affecting portrait of a country and a people on the cusp of immense change, and a disturbing and timeless depiction of the monstrous nature of absolute power.
In English. Free and open to the public. No RSVP necessary.
Born in Cameroon, Léonora Miano moved to France as a student. She has written fourteen books that have been translated into many languages. Miano's award-winning first novel, L'Intérieur de la nuit, was released in 2005 and translated in English by Tasmin Black. Her other books include Contours du jour qui vient, which was awarded the Prix Goncourt des Lycéens in 2006. Upon its release in France in 2013, the book Season of the Shadow won the prestigious Fémina prize and the Grand prix du roman metis.
Born in New York City to Libyan parents, Hisham Matar spent his childhood in Tripoli and Cairo and has lived most of his adult life in London. His debut novel, In the Country of Men, was shortlisted for the Man Booker Prize and The Guardian First Book Award, and won numerous international prizes, including the Royal Society of Literature Ondaatje Prize and a Commonwealth First Book Award. His second novel, Anatomy of a Disappearance, was published to great acclaim in 2011. His prize-winning memoir, The Return, was published in 2016 and was the recipient of the 2017 Pulitzer Prize, the PEN/Jean Stein Award, the Prix du Livre Etranger Inter & Le Journal du Dimanche, the Rathbones Folio Prize, and The Slightly Foxed Best First Biography Prize. It was one of The New York Times' top 10 books of the year. Matar's work has been translated into thirty languages. He is a Fellow of the Royal Society of Literature.
Sam Sacks writes the Fiction Chronicle for the Wall Street Journal and is a founding editor at Open Letters Monthly.