Gerty Dambury's The Restless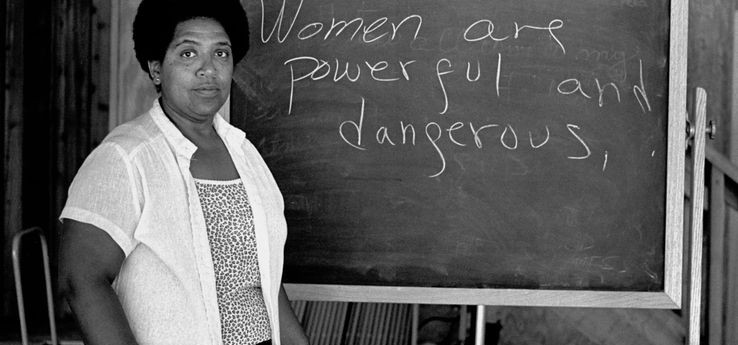 Join Judith G. Miller for a conversation on Gerty Dambury's debut novel, The Restless, translated from the French by Judith G. Miller and published for the first time in the US with the Feminist Press.
The Restless (Les Rétifs) tells the story a young girl's curiosity about her teacher's sudden disappearance sets the stage for a resonant analysis of 1960s Pointe-à-Pitre. This lyrical novel, structured like a Creole quadrille, is a rich ethnography bearing witness to police violence in French Guadeloupe. Narrators both living and dead recount the racial and class stratification that led to a protest-turned-massacre. While Dambury's English debut is a memorial to a largely forgotten atrocity, it is also a celebration of the vibrancy and resilience of Guadeloupeans.
In English. Free and open to the public. No RSVP necessary.
---
 Born in Pointe-à-Pitre, Guadeloupe, Gerty Dambury is a playwright, theater director, novelist, poet, and activist. She received a master's in English from Université Paris 8 in Vincennes in 1978. In graduate school, Dambury participated in the women's rights movement as a member of La Coordination des femmes noires, a black women's coalition that was founded in 1976 for Caribbean and African students and exiles living in France. Much of Dambury's work highlights the historical effects of slavery and colonialism in Caribbean society and culture as well as current racial, political, and socioeconomic tensions in France. Her debut novel, The Restless (published in France in 2012), reflects on the violent conflict between French police and construction workers in Pointe-à-Pitre on May 26 and 27, 1967, through the eyes of a young girl named Émilienne, who tries to find her missing father and beloved schoolteacher in the days leading up to the events. 
Judith Graves Miller was the Dean of Arts and Humanities at NYU Abu Dhabi, responsible for recruitment of faculty, curriculum oversight, and development of the arts and humanities at NYUAD. She has previously served NYU as Chair of the Department of French and Director of Graduate Studies. A scholar of French and Francophone theater, Miller has been awarded numerous awards for distinguished teaching and research and been recognized as a Chevalier dans l'Ordre des Palmes Académiques. Her research explores the interplay between the arts and the humanities, examining texts and productions from French and African sources.
Miller has published over 40 articles, four books, including an edition of short stories by Israeli writer, Michal Govrin (Hold Onto the Sun, 2010); a study of the French theatre director Ariane Mnouchkine (Ariane Mnouchkine, 2007); an anthology of plays by French and Francophone Women Writers (Plays by French and Francophone Women, 1994), and a monograph on writer Françoise Sagan (1988) and Theatre and Revolution Since 1968 (1977). She has translated numerous plays from the French, including texts by Hélène Cixous and Olivier Kemeid. She also edited text and helped translate the West African and Sahelian volume of a four-volume project bringing together women's writings from Africa (Women Writing Africa, 2006-2010). She has published an anthology of plays by Ivoirian playwright, Koffi Kwahulé with Indiana University Press in 2013.