From the Margins to the Mainstream: High Art vs. Low Art in France and the US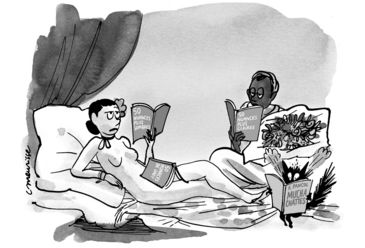 In the past twenty years we've seen television move from the realm of pedestrian art to the realms of the auteur. And yet even as comic book movies dominate commercially, comics in America have yet to escape the image of being the property of teen boys. This panel would look at how, and why, certain art forms (from television to comic books and slam poetry) move from low art to high art. It would also look at how those same art forms are considered within the realm of French and American culture.
Producer David Simon (The Wire); graphic novelists Kelly Sue Deconnick (Captain Marvel) and Catherine Meurisse (La Légèreté) and spoken word artist D'de Kabal (Chants Barbares) will explore these topics during a panel moderated by Ta-Nehisi Coates.
Watch this event live via Livestream on Nov. 3 at 7:30pm (EST).
---
Kelly Sue DeConnick is best known as the author of comic books like Marvel's Captain Marvel, the Eisner-nominated mythological Western Pretty Deadly and the dystopian science-fiction hit Bitch Planet. DeConnick and her husband, Matt Fraction, currently develop television for NBC/Universal as Milkfed Criminal Masterminds, Inc.
D' de Kabal is a rapper, actor, writer, director and slam artist who creates art that explores the intersection of these disciplines. He is the founder of Spoke Orkestra, the Bouchazoreill slam event and the multidisciplinary theatre company R.I.P.O.S.T.E. The creator of a dozen plays, his first book, Chants Barbares, was released in 2010.
Catherine Meurisse is an illustrator and comics artist. She recently authored the acclaimed comics album La Légèreté, which invokes life after the Charlie Hebdo attacks that victimized her friends and colleagues. Her illustrations have also appeared in numerous French newspapers and magazines as well as in children's books.
David Simon is an author, journalist, and the creator of The Wire, The Corner, Treme, Show Me A Hero, and the upcoming HBO series The Deuce. The author of two books of narrative non-fiction, "Homicide" and "The Corner," Simon is a 2010 MacArthur Fellow.
Ta-Nehisi Coates is a writer, journalist and educator. A national correspondent for The Atlantic, he writes about cultural, social and political issues, particularly regarding African-Americans. Following his 2008 memoir, The Beautiful Struggle, he released the bestselling book Between the World and Me, which won the 2015 National Book Award for Nonfiction. Coates just completed a year in Paris on a writing fellowship.
This event is part of Festival Albertine 2016. All events are free and open to the public. Seating is limited and available on a first come, first served basis.
Festival Albertine is made possible with major support from The Recanati-Kaplan Foundation, the Ford Foundation, Susannah Hunnewell, Air France, Van Cleef & Arpels, Institut français, and the Center for Ballet and the Arts at New York University. Generous support is provided by Champagne Pommery and The Carlyle.
Festival Albertine Media Partner