French Story Hour: Philippe The Black Sheep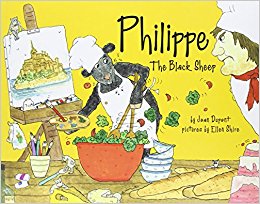 Join us for a morning of reading and drawing with children books author Joan Dupont and painter and illustrator Ellen Shire. Joan Dupont will read from her book, Philippe The Black Sheep(Filsinger & Co Lt). Philippe The Black Sheep tells of a Salt Marsh Lamb near Mont Saint-Michel. He grazes with the flock, but dreams of his easel — and plans his escape from the marshes to the Mont, to a new life, but new perils.
In French. For kids ages 3 and up. Free. No RSVP necessary.
---
Joan Dupont, author, lives in Paris. She writes on film and the arts and is known for her interviews in the International Herald Tribune,The New York Times,Film Quarterly, and Film Comment, with artists such as Pina Bausch, Alain Resnais, Gerard Depardieu, and Isabelle Huppert, among others. This foray into children's fiction — Ms. Dupont's first, was inspired by the sight of Salt Marsh Lambs grazing peacefully across the bay from Mont Saint-Michel.
Ellen Shire is a painter and an author/illustrator of children books. Her publications include The Bungling Ballerinas (Little, Brown and Company) and The Mystery at Number Seven RuePetite (Random House et Hamish Hamilton, Londres).