François Mitterrand: journées particulières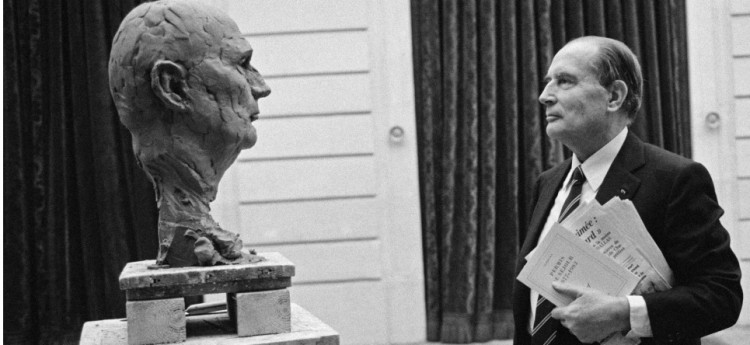 As the political season gears up, we invite you to join us for a conversation on former French President François Mitterrand with French author Laure Adler, and president and publisher of Harper's Magazine, John R. (Rick) MacArthur.
Before being the president who left his mark on the French collective memory, François Mitterand was above all else a man with an intensely novelistic life. It is Laure Adler's aim to introduce us to this remarkable character in her investigative book, which strives to be as objective as it is non-judgmental. In order to better confront the complexity of the former president, she portrays a hundred "distinctive" days that forged his personality, portraying both personal trials and public conflicts. From his arrival in Paris in 1934 to the last moving moments of the Chief of State, this book–with the help of many unreleased interviews and documents–gives us a biographical, political, and psychological portrait of the first Leftist president of the Fifth Republic.
In French. Free and open to the public. No RSVP necessary.
---
A former Cultural Counsellor to President François Mitterrand, Laure Adler is a journalist, historian, and writer specializing in women's history and feminism in the nineteenth and twentieth centuries. She is the author of numerous works, notably Until Tonight, a biography of Marguerite Duras, and Dangerous Women.
John R. (Rick) MacArthur is president and publisher of Harper's Magazine and an award-winning journalist and author. Under his leadership, the magazine has received nineteen National Magazine Awards, the industry's highest recognition. He writes regularly for The Spectator (U.K.) and writes a column in French, for Montreal's Le Devoir newspaper. His critically acclaimed first book, Second Front: Censorship and Propaganda in the Gulf War, won the Illinois ACLU's 1992 Harry Kalven Freedom of Expression award and was a New York Times notable book. His second book, The Selling of "Free Trade": NAFTA, Washington, and the Subversion of American Democracy, was published in 2000. He has also written You Can't Be President, published in 2008 and reissued in 2012 as The Outrageous Barriers to Democracy in America. L'Illusion Obama was published in 2012 in France and Canada.
Mr. MacArthur grew up in Winnetka, Illinois, and graduated in 1978 from Columbia University with a B.A. in history. He lives with his wife and two daughters in New York City.