France's Historic Château de Vaux-Le-Vicomte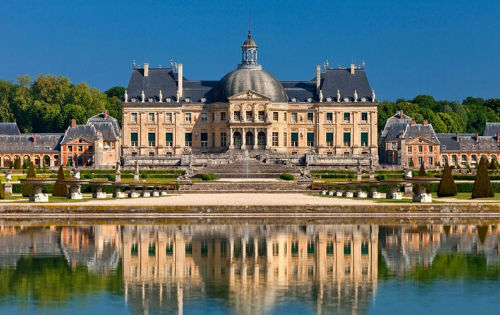 The Clark Art Institute, Vaux-le-Vicomte, and the Cultural Services of the French Embassy cordially invite you to a conversation and a reception with Alexandre de Vogüé, Owner and Director of Vaux-le-Vicomte, and Nicola Courtright, Art Historian, on France's Historic Château de Vaux-Le-Vicomte.
A model for Versailles, the 17th-century Château de Vaux-le-Vicomte is one of France's finest Baroque châteaux and the largest private château in France.  It was originally conceived by Nicolas Fouquet (France's then Minister of Finance) and was executed by leading artists of the day: André Le Nôtre, Louis Le Vau and Charles Le Brun. Le Nôtre's landscaping innovations led to the foundation of the iconic French formal garden and the Château serves as an inspiration for European landscaping and architecture to this day.
RSVP by February 6  to rsvp@frenchculture.org
WATCH THIS EVENT ONLINE THURSDAY, FEBRUARY 19  AT 7PM EST
---
Dr. Nicola Courtright is William R. Kenan, Jr. Professor of the History of Art and Chair of European Studies at Amherst College as well as Editor-in-Chief of Grove Art Online. Dr. Courtright was a Fellow at the Clark Research and Academic Program where her project examined how gardens, art, and architecture in royal residences were crafted to amplify the authority of sixteenth- and seventeenth-century French queens.
Opened in 1955, the Clark Art Institute in Williamstown, Massachusetts, is one of only a small number of institutions in the United States that combines a research center with a public art museum. With its distinctive dual mission, the Clark houses an important permanent collection of more than 9,000 works, including exceptional European and American paintings and sculpture, extensive collections of master prints and drawings, English silver, and early photography.
The Clark's 140-acre expanded campus designed by Pritzker Prize architect Tadao Ando and Annabelle Selldorf opened to great critical and public acclaim in the summer 2014.
Vaux-le-Vicomte
Vaux-le-Vicomte
Vaux-le-Vicomte
Vaux-le-Vicomte
Vaux-le-Vicomte
Vaux-le-Vicomte