Explosive Coming-of-Age Graphic Novels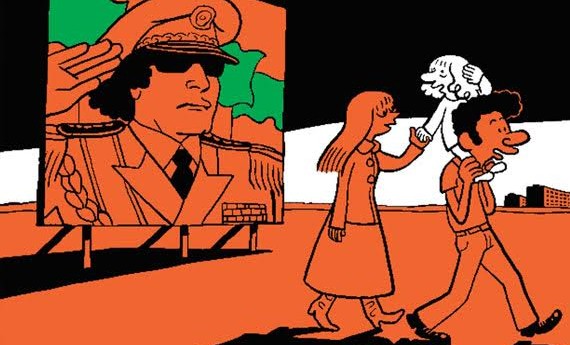 Recently graphic novels have expanded to encompass new forms of expression and reader engagement – nowadays, they seem to be staking a claim as the modern bildungsroman. The panel will gather Riad Sattouf, a French cartoonist and filmmaker whose new book, The Arab of the Future, depicts his whirlwind childhood in Gaddafi's Libya and Assad's Syria with biting humor, along with Phoebe Gloeckner, a cartoonist and author of the illustrated Diary of A Teenage Girl, the raw tale of an adolescent in search of love and meaning in 1970s San Francisco.
Sattouf and Gloeckner will discuss how their artistic and socio-political development took place in the midst of eccentric and sometimes dysfunctional family dynamics. They will also discuss how their creative expression spreads across writing, drawing, and filmmaking.
Guests: Phoebe Gloeckner and Riad Sattouf
Curator: Françoise Mouly
In English. All events are free and open to the public. Seating is limited and available on a first come, first served basis.
Watch this event live via Livestream on Nov. 6 at 7pm (EST).
The Festival Albertine is made possible with major support from The Recanati-Kaplan Foundation, Susannah Hunnewell, Air France, Institut français, The Carlyle, Feast & Fêtes, Café Boulud and Meeschaert Group. Generous support is provided by Champagne Pommery.
---
Françoise Mouly has been the art editor at The New Yorker since 1993. A co-founder, with Art Spiegelman, of Raw magazine, she launched the award-winning TOON Books in 2007 and imprint TOON Graphics in 2014. A recipient of the Society of Illustrators' Richard Gangel Art Director Award, she was also named a Chevalier in the Order of Arts and Letters and the Légion d'honneur.
Phoebe Gloeckner is a graphic novelist whose works include The Diary of a Teenage Girl (2002) and A Child's Life and Other Stories (1998). In 2008, she was awarded a Guggenheim fellowship. A film adaptation of The Diary of a Teenage Girl directed by Marielle Heller, and starring Bel Powley and Kristen Wiig,  was released this past summer.
Riad Sattouf is a bestselling cartoonist and filmmaker who grew up in Syria and Libya and now lives in Paris. He is the screenwriter and director of the award-winning film Les Beaux Gosses. He is also the author of four comic series in France, and a former weekly columnist for Charlie Hebdo. The Arab of the Future which will be published in the U. S. in October 2015, was awarded a "fauve d'or" at Angoulême festival 2015, and has been published in fourteen other languages. It is his first work to appear in English.
Explosive Coming-of-age Graphic novels
Explosive Coming-of-age Graphic novels