Equinoxes: An Evening With Cyril Pedrosa, Gabrielle Bell and Bill Kartalopoulos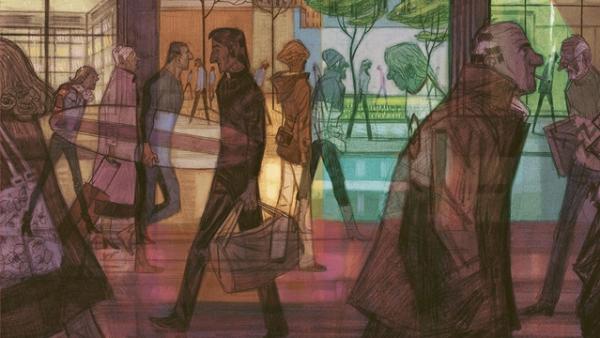 Join us for a conversation with American graphic novelist Gabrielle Bell and  French graphic novelist Cyril Pedrosa on his masterful graphic novel Equinoxes just published in the United States with NBM publishing, moderated by Bill Kartalopoulos.
In an equinox, day is as long as night, as if the world found perfect equilibrium between shadow and light, a fleeting equilibrium, similar to the stakes of our human destinies. Segmented into four tableaux for four seasons, unrelated people of all social backgrounds seeking equilibrium cross paths with other solitudes, weaving in and out of one another's lives- all captivated and tormented by the enigmatic meaning of life. Every season has its visual identity and its individual voice, culminating in summer and, possibly, an answer.
Equinoxes is a unique ground-breaking work of rare intensity and narrative sensibility by a rising bestselling star of European comics.
In English. Free and open to the public. No RSVP necessary.
---
Gabrielle Bell was born in England and raised in California. In 1998 She began to collect her "Book of" miniseries (Book of Sleep, Book of Insomnia, Book of Black, etc), which resulted in When I'm Old and Other Stories, published by Alternative Comics. In 2001 she moved to New York and released her autobiographical series Lucky, published by Drawn and Quarterly. Her work has been selected for the 2007, 2009, 2010 and 2011 Best American Comics and the Yale Anthology of Graphic Fiction, and she has contributed to McSweeneys, Bookforum, The Believer, and Vice Magazine. The title story of Bell's book, "Cecil and Jordan in New York" has been adapted for the film anthology Tokyo! by Michel Gondry. Her latest book, The Voyeurs, is available from Uncivilized Books. She lives in Brooklyn, New York.
Bill Kartalopoulos is a Brooklyn-based comics critic, educator, curator and editor. He is the Series Editor for the Best American Comics series published by Houghton Mifflin Harcourt. He currently teaches Comics History in the MFA Visual Narrative program at SVA. He is the programming coordinator for the MoCCA Arts Festival and SPX: The Small Press Expo and is a member of the Executive Committee for the International Comic Arts Forum (ICAF). He is the publisher/editor of the small, occasional avant-garde comics publishing imprint Rebus Books.
Cyril Pedrosa studied at the Gobelins animation design, a Parisian establishment dedicated to careers in the moving image. He worked on Disney animated feature films such as The Hunchback of Notre Dame and Hercules. He then met writer David Chauvel, inspiring him to turn to comics. A "rising star" in graphic storytelling, his unique work is a product of his animation background combined with his literary influences of Borges, Marquez and Tolkien. His moving journal of going back to his family roots, Portugal, is a bestseller.
Cyril Pedrosa
Cyril Pedrosa