Don't Just Sit There, Talking About Dance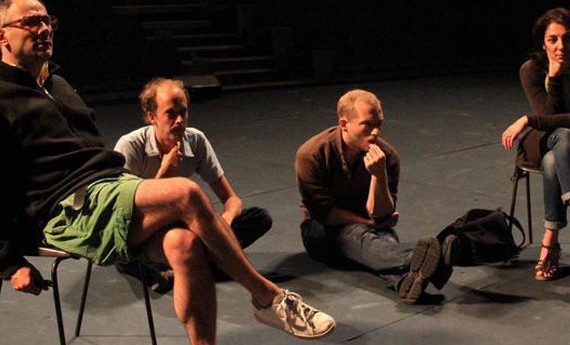 Over the last decades, especially in France and the US, dance –the most ephemeral form of art production – fruitfully traversed minimalism, conceptual art, feminism, and postmodernism, always pushing and readjusting its boundaries. Art historian, critic, and NYU professor, RoseLee Goldberg will discuss influences and legacies in dance with French choreographer Jérôme Bel, renowned for his cerebral, sometimes challenging but always witty productions that explore how dance is produced and transmitted, along with iconic dancer, choreographer, and filmmaker Yvonne Rainer, one of the most influential artistic figures of the 20th century, whose work has been pivotal across multiple disciplines and movements. The conversation will look at their conceptual kinship and exchange, explore the transatlantic and generational choreographic conversation of the past fifty years, and shed light on both Bel's and Rainer's latest works.
Guests: Jérôme Bel and Yvonne Rainer
Curator: RoseLee Goldberg
All events are free and open to the public. Seating is limited and available on a first come, first served basis.
Watch this event live via Livestream on Nov. 8 at 3pm (EST).
The Festival Albertine is made possible with major support from The Recanati-Kaplan Foundation, Susannah Hunnewell, Air France, Institut français, The Carlyle, Feast & Fêtes, Café Boulud and Meeschaert Group. Generous support is provided by Champagne Pommery.
---
RoseLee Goldberg has been Performa Founding Director and Curator. She first published her pioneering book Performance Art: From Futurism to the Present in 1979. Former Director of the Royal College of Art Gallery in London and Curator at The Kitchen in New York, she won the International Association of Art Critics Award (2011), received a Curatorial Research Fellowship from the Warhol Foundation (2008), and was made Chevalier of the Order of Arts and Letters (2006).
Jérôme Bel is known for conceptual performances that explore the triangle between choreography, performer, and spectator, and break the usual formality of a theater setting. Bel's work has been presented at Venice Biennale, Festival d'Automne in Paris, Festival d'Avignon, and Tate Modern in London. His performance Disabled Theater, a bold piece for professional actors with learning disabilities, was a highlight of Performa 13.
Yvonne Rainer was a co-founding member of the Judson Dance Theater (1962-1964), before transitioning to filmmaking. She returned to dance in 2000 for After Many a Summer Dies the Swan. Her work has earned two Guggenheim Fellowships, two Rockefeller grants, a MacArthur Fellowship, and retrospective exhibitions in London, Los Angeles, and Cologne. Her memoirs, Feelings Are Facts: Life, were published in 2006.