Camus in New York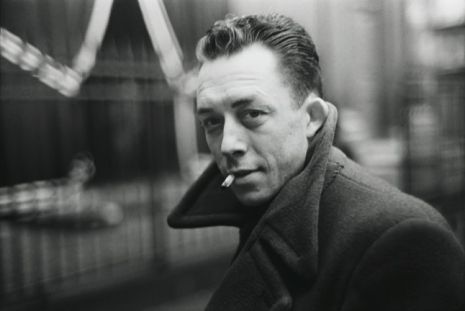 This spring marks the 70th anniversary of Camus's one and only trip to the United States. From March to May 1946, he delivered lectures at universities, spoke of the French resistance to Nazi occupation, and acted as a critical observer of American society. Outside of intellectual and literary circles, the young author was scarcely known when he arrived. But he would be. During the course of his visit, his novel The Stranger was published in English for the first time.
Alice Kaplan (John M. Musser Professor of French, and Chair of the French Department, Yale University), Alban Cerisier (Secretary-General at Editions Gallimard, Camus' French publisher) and Morris Dickstein (Distinguished Professor of English, CUNY, Graduate Center) discuss Albert Camus'1946 trip to New York and the reception of his work in the United States.
In English. Free and open to the public with RSVP.
***We are no longer accepting reservations for this event. You are welcome to come and wait on stand-by, but we cannot guarantee you a place. Alternately, you can watch the event live online via livestream.***
WATCH THIS EVENT LIVE ON WEDNESDAY APRIL 6 AT 7PM (EST)
This event is presented by the Book Department at the Cultural Services of the French Embassy
---
Alban Cerisier is Secretary-General at Editions Gallimard, Camus' French publisher.
Born in 1940, Morris Dickstein grew up in New York. He received his education at Columbia, the Jewish Theological Seminary, Cambridge, and Yale, where he worked with distinguished critics such as Lionel Trilling, F. R. Leavis, Raymond Williams, and Harold Bloom. Returning to New York, he taught first at Columbia, closely observing the 1968 student uprising, and then at Queens College and the Graduate Center of the City University, where he is currently Distinguished Professor of English and Theatre and senior fellow of the Center for the Humanities, which he founded in 1993. His books include a widely known cultural history the 1960s, Gates of Eden, nominated for a National Book Critics Circle Award in criticism in 1978 and selected as one of the best books of the year by the editors of the New York Times Book Review. Among his other books are a study of modern criticism, Double Agent (1992); a social history of postwar American fiction, Leopards in the Temple (2002); and a collection of essays on realism and literature, A Mirror in the Roadway (2005). His book Dancing in the Dark: A Cultural History of the Great Depression (2009) received the Ambassador Book Award in American Studies from the English-Speaking Union and was a finalist for the National Book Critics Circle Award in criticism. His most recent book is a memoir, Why Not Say What Happened: A Sentimental Education (2015). The late Norman Mailer described him as "one of our best and most distinguished critics of American literature."
Alice Kaplan, John M. Musser Professor of French, came to Yale University in 2009 after many years on the faculty at Duke University, where she was the founding director of the Duke University Center for French and Francophone Studies and a professor of Romance Studies, Literature, and History. Her books include, Reproductions of Banality, a theoretical exploration of French fascism; Sources et citations dans 'Bagatelles pour un massacre; a study of Céline's anti-semitic pamphlets, The Collaborator: The Trial and Execution of Robert Brasillach (winner of the 2001 Los Angeles Times Book Award in History and a finalist for the National Book Award and National Book Critic's Circle awards), The Interpreter (a recipient of the 2005 Henry Adams Prize from the Society for History in the Federal Government). Alice Kaplan is probably best known for her 1993 memoir, French Lessons, which was also a finalist for the National Book Critics Circle award in biography/autobiography. Her literary translations include books by Roger Grenier (Piano Music for Four Hands, Another November, and The Difficulty of Being a Dog), Louis Guilloux (OK, Joe), and Evelyne Bloch-Dano (Madame Proust). Dreaming in French: The Paris Years of Jacqueline Bouvier Kennedy, Susan Sontag, and Angela Davis, was published in 2012 by the University of Chicago Press and the Editions Gallimard.