Pénélope Bagieu & Mona Eltahawy in Conversation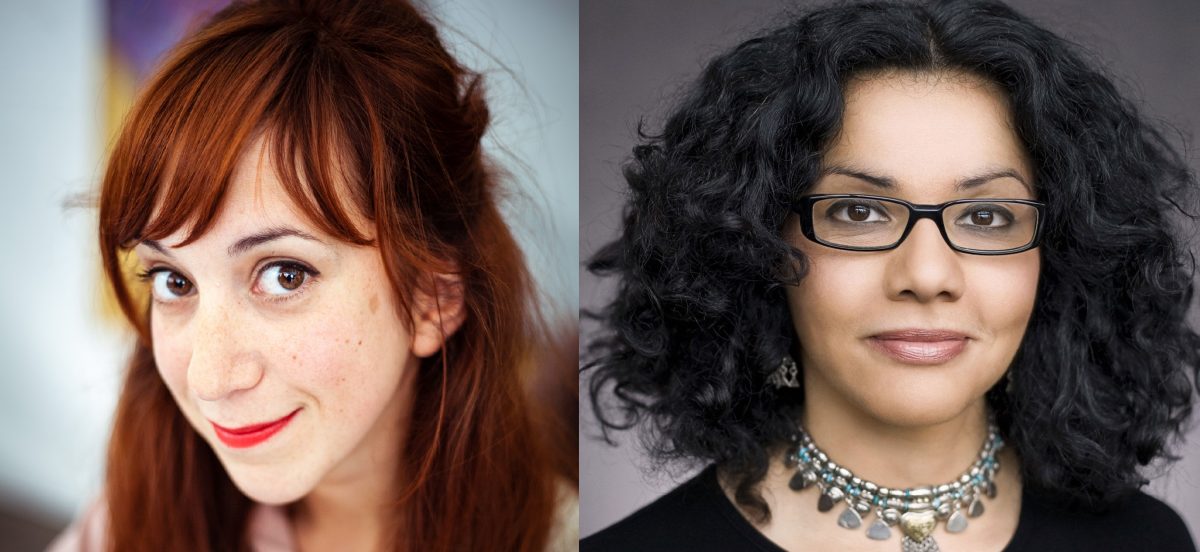 Graphic novelist Pénélope Bagieu and award-winning writer Mona Eltahawy discuss Bagieu's latest book Brazen (Culottées) just out in the US with First Second.
Throughout history and across the globe, one characteristic connects the daring women of Brazen: their indomitable spirit. With her characteristic wit and dazzling drawings, celebrated graphic novelist Pénélope Bagieu profiles the lives of these feisty female role models, some world famous, some little known. From Nellie Bly to Mae Jemison or Josephine Baker to Naziq al-Abid, the stories in this comic biography are sure to inspire the next generation of rebel ladies.
In English. Free and open to the public. No RSVP necessary.
---
Pénélope Bagieu was born in Paris in 1982 to Corsican and Basque parents. She is a bestselling graphic novel author, and her editorial illustrations have appeared all over the French media. In America, her graphic novels include Exquisite Corpse and California Dreamin'. She blogs, plays drums in a rock band, and watches lots of nature shows.

Mona Eltahawy is an award-winning columnist and international public speaker on Arab and Muslim issues and global feminism. She is based in Cairo and New York City.
She is the author of Headscarves and Hymens: Why the Middle East Needs a Sexual Revolution, released April 2015, and is a contributor to the New York Times opinion pages. Her commentaries have appeared in several other publications and she is a regular guest analyst on various television and radio shows.
During the 18-day revolution that toppled Egypt's President Hosni Mubarak, she appeared on most major media outlets, leading the feminist website Jezebel to describe her as "The Woman Explaining Egypt to the West".
In November 2011, Egyptian riot police beat her, breaking her left arm and right hand, and sexually assaulted her and she was detained for 12 hours by the Interior Ministry and Military Intelligence.
Newsweek Magazine named Ms Eltahawy one of its "150 Fearless Women of 2012", Time Magazine featured her along with other activists from around the world as its People of the Year and Arabian Business magazine named her one of the 100 Most Powerful Arab Women.
Before she moved to the U.S. in 2000, Ms Eltahawy was a news reporter in the Middle East for many years, including almost six years as a Reuters correspondent and she reported for various media from Egypt, Israel, Palestine, Libya, Syria, Saudi Arabia and China.
In 2012, the Missouri School of Journalism awarded her its Honor Medal for Distinguished Service in Journalism and the Columbia Journalism Review named her as one of 20 women in the media to watch. In 2010 the Anna Lindh Foundation awarded her its Special Prize for Outstanding Contribution to Journalism and the Estlow International Center for Journalism and New Media at the University of Denver gave her its Anvil of Freedom Award. In 2009, the European Union awarded her its Samir Kassir Prize for Freedom of the Press for her opinion writing and Search for Common Ground named her a winner of its Eliav-Sartawi Award for Middle Eastern Journalism.
Mona was born on Aug. 1, 1967 in Port Said, Egypt and has lived in the U.K, Saudi Arabia and Israel. She calls herself a proud liberal Muslim. In 2005, she was named a Muslim Leader of Tomorrow by the American Society for Muslim Advancement and she is a member of the Communications Advisory Group for Musawah, the global movement for justice and equality in the Muslim family. Read more about Mona Eltahawy here.
Watch the event on Livestream at 7pm on March 6th: