Book launch: The Future Future. An Evening with Adam Thirlwell and Jeffrey Eugenides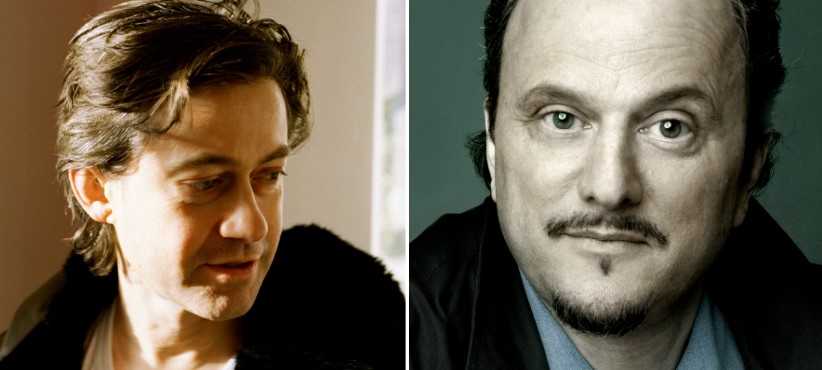 On Tuesday, October 17 at 6pm, Adam Thirlwell will discuss The Future Future, a historical novel like no other, just published in the US by FSG with internationally acclaimed novelist Jeffrey Eugenides. Join us for a promising conversation about female friendship, language, and power, from France to colonial America to the moon, from 1775 to this very moment. Set in 1775 and in the present moment, in Europe and America and the Atlantic and Pacific Oceans and, briefly, on the moon, The Future Future is a dazzlingly inventive, hilarious, supermodern, and blindingly bright novel that follows one woman on an urgently contemporary quest to clear her name and change the world.
It's the eighteenth century, and Celine is in trouble. She's eighteen. Her husband is mostly absent. Her parents are elsewhere. And somewhere men are inventing stories about her; about her affairs, her sexuality, her orgies and addictions and assignations. All these stories are lies, but the ordinary public loves them; spreading them like a plague. And Celine watches as her name becomes a celebrity symbol for everything rotten in the world. This is a universe of saturation and corruption, of lavish parties and private salons, of purified guava and raki, of tulle and satin and sex, but also of revolution and resistance. It's a world ruled by men, all of whom are high on genocide, colonial expansion, forest redevelopment, political theory, violence against women, and, above all, language.
As France moves through its revolutions and the earth whirls around the sun, Celine and her young friends band together against evil and history in search of justice, truth, and beauty.
This event is free with RSVP. Click here for ticket. The conversation will be in English. This event is co-presented by the Paris Review.
Adam Thirlwell Adam Thirlwell was selected twice as one of Granta's Best of Young British Novelists. His debut novel, Politics, took the international literary scene by storm in 2003. Since then, he has published novels including Lurid and Cute (2016) and The Escape (2009), and an essay on translation, The Delighted States (2007). His work has been translated into thirty languages and his essays appear in The New York Review of Books and the London Review of Books, and he is an advisory editor of The Paris Review. His awards include a Somerset Maugham Award and the E. M. Forster Award from the American Academy of Arts and Letters; in 2018 he was made a Fellow of the Royal Society of Literature.
Jeffrey Eugenides is the author of three novels. His first, The Virgin Suicides, published in 1993, is now considered a modern classic. (The novel was also made into a film by Sofia Coppola.) Middlesex appeared in 2002, going on to win the Pulitzer Prize for Fiction, the WELT-Literatur Preis, and the Santiago de Compostela Literary Prize from Spain. Middlesex was also a finalist for the National Book Critics Circle Award, the International IMPAC Dublin Literary Award, and France's Prix Médicis.
In 2011, Eugenides published The Marriage Plot, which became a finalist for the National Book Critics' Circle Award and was named as the best novel of that year by independent booksellers in the United States. The Marriage Plot also won the Prix Fitzgerald and the Madame Figaro Literary Prize in France. Fresh Complaint, a collection of short stories, was published in 2017. Eugenides is the Lewis and Loretta Glucksman Professor in American Letters at New York University. His work has been translated into over 35 languages. He is a member both of The American Academy of Arts and Letters and The American Academy of Arts & Sciences.