Becoming Beauvoir: A Life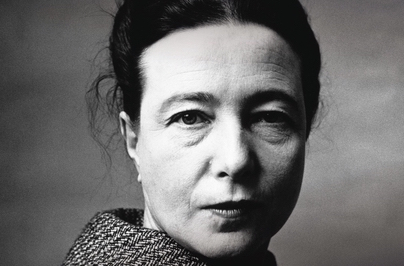 Join us for a discussion with author Kate Kirkpatrick and New Yorker staff writer Judith Thurman on Kirkpatrick's ground-breaking biography Becoming  Beauvoir: A Life (Bloomsbury), which draws on Simone de Beauvoir's never-before-published diaries and letters, to tell the fascinating story of how this French philosopher, writer and iconic feminist became herself.
"One is not born a woman, but becomes one," wrote Simone de Beauvoir. A symbol of liberated womanhood, Simone de Beauvoir's unconventional relationships inspired and scandalized her generation. She won prestigious literary prizes and transformed the way we think about gender with The Second Sex. But despite her successes, she wondered if she had sold herself short. Her liaison with Jean-Paul Sartre has been billed as one of the most legendary love affairs of the twentieth century. But for Beauvoir it came at a cost: for decades she was dismissed as an unoriginal thinker who 'applied' Sartre's ideas. In recent years, new material has come to light, revealing the ingenuity of Beauvoir's own philosophy and the importance of other lovers in her life.
In English. Free and open to the public. No RSVP necessary.
---
Kate Kirkpatrick is lecturer in Religion, Philosophy and Culture at King's College London, UK. She is the author of several books on Jean-Paul Sartre and Simone de Beauvoir.
Judith Thurman began contributing to The New Yorker in 1987 and became a staff writer in 2000. She writes about books, culture, and fashion. Her story on Yves Saint Laurent was chosen for The Best American Essays of 2003. In addition to articles about the great couturiers of the last century (Chanel, Balenciaga, Schiaparelli), and the avant-gardists of this one (Rei Kawakubo, Isabel Toledo, Alexander McQueen), Thurman has written about performance art (Marina Abramović) and photography (Diane Arbus). Much of her work focusses on the lives of writers, from Flaubert and Margaret Fuller to the graphic memoirist Alison Bechdel. First Impressions, her 2008 reportage about the world's oldest art—the Paleolithic paintings at the Chauvet Cave, in southern France—was the inspiration for Werner Herzog's film Cave of Forgotten Dreams. She is the author of Isak Dinesen: The Life of a Storyteller, which won the 1983 National Book Award for nonfiction, and Secrets of the Flesh: A Life of Colette, the winner of the Los Angeles Times Book Award for Biography and the Salon Book Award for biography. The Dinesen biography served as the basis for Sydney Pollack's movie Out of Africa. A collection of her New Yorker essays, Cleopatra's Nose: 39 Varieties of Desire, was published in 2007. She received the Rungstedlund Prize and the Harold D. Vursell Memorial Award for prose style, from the American Academy of Arts and Letters.