An Evening with Paraguay Press, Primary Information, A.R.T Press & Blonde Art Books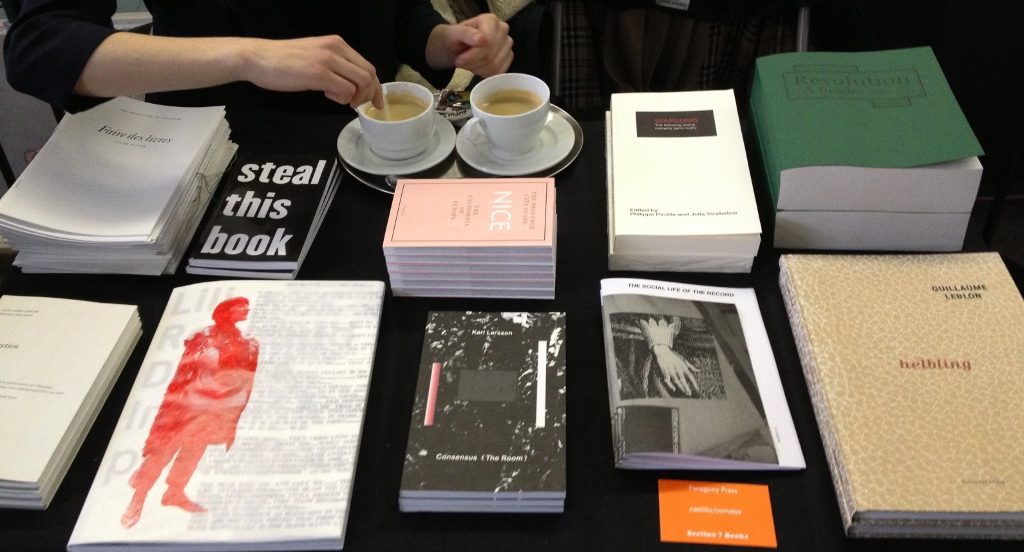 Join us for a compelling discussion on the art of publishing with a panel of socially engaged, progressive, and art-focused publishers. Information on participants and their respective publishing houses is provided below.
WATCH THIS EVENT ONLINE TUESDAY, SEPTEMBER 22  AT 7PM EST
---
Paraguay Press is a collectively-run, independent publisher based in Paris. Developed by the team of the non-profit space castillo/corrales, a Paris-based organization that encompasses a bookstore and publishing house, it offers an innovative and critical approach to contemporary art. Each book is created in close collaboration with artists, writers, and graphic designers.
Benjamin Thorel is an art critic, editor, and member of castillo/corrales. Antonia Carrara is an artist based in Paris and Amsterdam. In Amsterdam, she co-founded rongwrong, a space for art and theory. She also runs Section7Books, the bookstore of associated with castillo/corrales.
A.R.T press publishes an ongoing series of conversation-based books that document different positions and strategies of leading and up-and-coming contemporary artists. Art Resources Transfer (A.R.T.) is a New York-based non-profit that creates egalitarian access to the arts and literacy through publishing and the free distribution of contemporary art books to underserved public schools and libraries across the country (D.U.C. Library Program).
Alejandro Cesarco is an artist living and working in New York; he is the Director of Art Resources Transfer.
Established by Sonel Breslav in 2012, Blonde Art Books is a Brooklyn based organization dedicated to promoting self-published art books through exhibitions, publications, book fairs, talks, and online exposure. The project strives to nurture a diverse and inclusive space in which the publishing community and it's audience can share ideas, materials, and resources. The first book published under the Blonde Art Books imprint, Kitsch Encyclopedia by Sara Cwynar, was launched in April 2014, followed by the recent publication with Secretary Press, Dust, The plates of Present,February 2013 – July 2015. Sonel Breslav is also the Gallery Director at Murray Guy.
Primary Information is a non-profit organization devoted to printing artists' books, artists' writings, and out-of-print publications and editions. Primary Information was formed in 2006 to foster intergenerational dialogue through the publication of artists' books and writings by artists—emerging, mid-career, and established. The organization's period of focus is from the early sixties to the present, with an emphasis on the conceptual practice of using publications as an exhibition space.
Miriam Katzeff runs the publishing house Primary Information, which she co-founded with artist James Hoff in 2006. She has previously worked as director of Team Gallery, NY.