An Evening with Douglas Kennedy and Marc Levy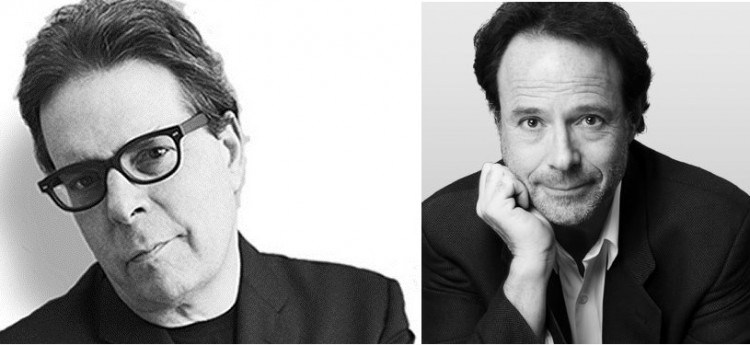 Douglas Kennedy and Marc Levy discuss The Blue Hour and A Spin on the Horizon (L'Horizon à l'envers), their latest novels, as well as their passion for literature. The conversation is moderated by Rick Schine.
With his acclaimed ability to write thought-provoking page-turners, Douglas Kennedy takes readers into a world where only Patricia Highsmith has ever dared. The Blue Hour is a roller-coaster journey into a heart of darkness that asks the question: What would you do if your life depended on it?
In A Spin on the Horizon (L'Horizon à l'envers), Hope, Josh, and Luke are three neuroscience students, an inseparable trio bound by unwavering friendship and a genius idea. When one of them becomes terminally ill, they decide to attempt the impossible and make their extraordinary project come true.
Moving and mysterious yet full of humor, A Spin on the Horizon is a timeless love story with an unforgettable denouement. A novel about life, love, and death. Because after that, nothing is quite the same.
In English. Free and open to the public. No RSVP necessary.
---
Douglas Kennedy is the author of twelve novels, including the international bestsellers The Big Picture, The Pursuit of Happiness, Leaving the World. His latest novel, The Heat of Betrayal, is now available in English and in French as Mirage (with an American publication in Feb. 2016 under the title, The Blue Hour). He is also the author of three highly-praised travel books. Several of his novels have been filmed, including The Big Picture (starring Romain Duris and Catherine Deneuve) and The Woman in the Fifth (with Ethan Hawke and Kristen Scott Thomas). He is currently working on his thirteenth novel and on a television series based on his novel, The Pursuit of Happiness.
More than 14 million copies of his books have been sold worldwide and his work has been translated into twenty-two languages. Kennedy's novels are often written in European landscapes, and have been particularly acclaimed and beloved in France, where Kennedy was awarded the French decoration, The Chevalier de l'Ordre des Arts et des Lettres in 2007. In November 2009, he received the first "Grand Prix du Figaro," awarded by the newspaper Le Figaro.
Born in Manhattan in 1955, he has two children, Max and Amelia, and currently divides his time between Manhattan, Paris, London, Montreal and Maine.
Marc Levy is the author of seventeen novels. His novels have sold over thirty five million copies and been translated into forty nine languages, making him today's most widely read French author. His English language debut, If Only It Were True, sold almost six million copies and was made into a film starring Reese Witherspoon and Mark Ruffalo. His second novel has been adapted into a television series, and his novel Mes amis mes amours into a film. Levy also directed a short movie for Amnesty International, he lives in New York's West Village with his wife and sons. His last novel, L'Horizon à l'envers, is a bestseller in France since its release in February 2016.
Rick Schine is a Senior Editor for Bloomberg News. His previous posts include Editor of Business Week's European Editor, Senior Editor at Inc. magazine and staff reporter at the Los Angeles Times.
Douglas Kennedy and Marc Levy
Douglas Kennedy and Marc Levy