An Evening with Angélique Kidjo!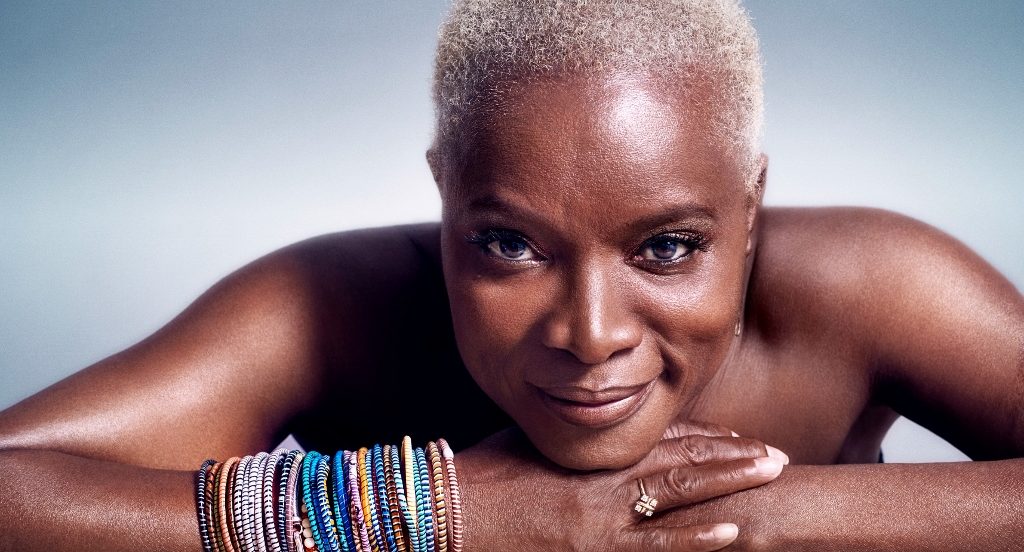 Join three-time Grammy Award winner Angélique Kidjo, one of the greatest artists in international music today, as she discusses her extraordinary career, her life-long commitment to women and Africa, and her memoir, Spirit Rising: My Life, My Music (HarperCollins) with John Schaefer.
Born in the West African nation of Benin, Angélique Kidjo grew up surrounded by the rich sounds, rhythms, and storytelling of traditional Beninese culture. When the Communists took over, they silenced her dynamic culture and demanded that she sing in praise of them.
In Spirit Rising: My Life, My Music, Angélique reveals the details of her dangerous escape into France, and how she became a Grammy Award–winning artist and an international sensation at the top of Billboard's World Albums chart. She also explains why it's important to give back by sharing stories from her work as a UNICEF ambassador and as founder of the Batonga Foundation, which gives African girls access to education.
Desmond Tutu has contributed the foreword to Spirit Rising: My Life, My Music; Alicia Keys has provided an introduction.
In English. Free and open to the public. No RSVP necessary. Please note that seating is limited and available on a first-come, first-served basis.
Angélique Kidjo will be returning to Carnegie Hall with an all-star band and some very special guests for the debut performance of her reimagined take on the Talking Heads' classic 1980 album, Remain in Light. More info here.
---
As a performer, Angélique Kidjo's striking voice, stage presence and fluency in multiple cultures and languages have won respect from her peers and expanded her following across national borders. Kidjo has cross-pollinated the West African traditions of her childhood in Benin with elements of American R&B, funk and jazz, as well as influences from Europe and Latin America. 
Her star-studded album DJIN DJIN won a Grammy Award for Best Contemporary World Album in 2008, and her album OYO was nominated for the same award in 2011. In January 2014 Angélique's first book, a memoir titled Spirit Rising: My Life, My Music (Harper Collins) and her twelfth album, EVE (Savoy/429 Records), were released to critical acclaim. EVE later went on to with the Grammy Award for Best World Music Album in 2015.
Angélique has gone on to perform with several international orchestras and symphonies including the Bruckner Orchestra, The Royal Scottish National Orchestra, and the Philharmonie de Paris. Her collaboration with Philip Glass, title IFÉ: Three Yorùbá Songs, made its US debut to a sold out concert with the San Francisco Symphony in June 2015. In addition to performing this new orchestral concert, Angélique continues to tour globally performing the high-energy concert she's become famous for with her four-piece band. Her rousing live show was recently captured at the revered Austin City Limits and has made its television debut in January 2016. In 2015, she was a recipient of the Crystal Award of Davos.
Angélique Kidjo also travels the world advocating on behalf of children in her capacity as a UNICEF and OXFAM goodwill Ambassador. She created her own charitable foundation, Batonga, dedicated to support the education of young girls in Africa. In 2016, she received  the Amnesty International Ambassador of Conscience Award.
John Schaefer is the host and producer of WNYC's long-running new music show New Sounds ("The #1 radio show for the Global Village" – Billboard), founded in 1982, and its innovative Soundcheck podcast, which has featured live performances and interviews with a variety of guests since 2002. He also hosts and produces The Furthermore, a contemporary classical music show on WNYC's sister station, WQXR. He created the New Sounds Live concert series in 1986, which features new works, commissioned pieces, and a special series devoted to live music for silent films. Done largely at Brookfield Place and Merkin Concert Hall in NY, the series continues to this day.
Schaefer has written extensively about music, including the book New Sounds: A Listener's Guide to New Music (Harper & Row, NY, 1987; Virgin Books, London, 1990); the Cambridge Companion to Singing: World Music (Cambridge University Press, U.K., 2000); the TV program Bravo Profile: Bobby McFerrin (Bravo Television, 2003); and the documentary film The Other Side Of The Door – The Music Of Ostad Elahi(first screened at the Metropolitan Museum of Art, 2016). He has also written about horse racing (Bloodlines: A Horse Racing Anthology, Vintage, NY 2006) and has been a regular panelist on the BBC's soccer-based program Sports World.