An Afternoon with Gregory Forstner and Alun Williams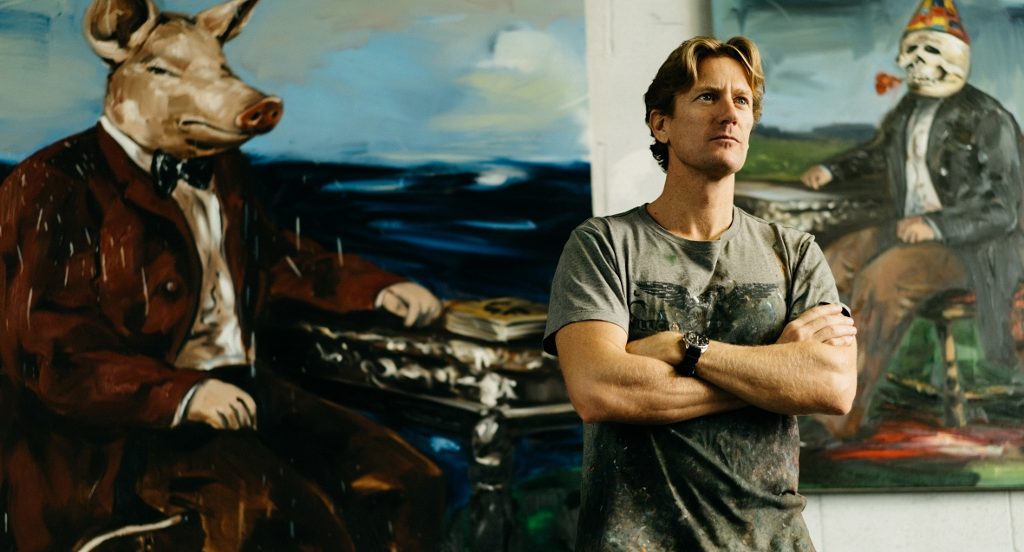 Join Gregory Forstner and Alun Williams as they discuss Forstner's first ever monograph (Editions Dilecta) covering over 15 years of work, which includes texts by Gilles Fuchs, Henry-Claude Cousseau, and Caroline Hancock.
In English. Free and open to the public. No RSVP necessary.
---
 Born in Douala, Cameroon, in 1975, to a French mother and an Austrian father, Gregory Forstner is a French artist living in New York City.
The Musée d'Art Moderne et d'Art Contemporain de Nice organised the first solo show of his work in 2007. In 2009, Guy Tosatto invited him to do a solo exhibition (The Ship of Fools) at the Musée de Grenoble, sharing the walls of the museum with the first institutional retrospective in France of Alex Katz, whom he met on this occasion.  In 2014, Gregory Forstner was invited to present his work at the Collège de France during the conference The Making of Painting, with, among others, Hernan Bas, Jules de Balincourt, Glenn Brown, Jeff Koons and Chéri Samba. 
Since 2013, he has been publishing his writing with the publishing houses Derrière la Salle de Bain and Littérature Mineure. L'Odeur de la Viande (a collection of autobiographical texts) was published with éditions Esperluète in 2015. His work is represented in the permanent collections of the Musée d'Art Moderne de la Ville de Paris (ARC), Musée de Grenoble, Musée d'Art Moderne et d'Art Contemporain de Nice (MAMAC), FNAC (Fonds National d'Art Contemporain), FRAC (Fonds Régional d'Art Contemporain) Haute-Normandie, FRAC Basse-Normandie, FRAC Alsace, SACEM collection, Fondation Claudine et Jean-Marc Salomon in Annecy, Fondation Bernard Massini in Nice, Richard J. Massey Foundation in New York, TIA Collection in the United States, and Sammlung Goetz in Munich.
Among recent exhibitions are « Animal Farm – Beastly Muses and Metaphors at gallery S/2 Sotheby's London (with Lucian Freud, Adrian Ghenie, William Wegman amongst others), « From Picasso to Warhol » at Musée de Grenoble, E-Motion at Maeght Foundation, Saint-Paul-de-Vence, France. His work is represented by galerie Zink, Waldkirchen, Germany and galerie Eva Vautier, Nice, France.
In 2008, Gregory Forstner won a scholarship from the French Ministry of Culture for a one-year residency in New York with Triangle Arts association. 
Born in Manchester (UK) in 1961, Alun Williams is an English artist. In 1992, Williams created the Association La Vigie in Nîmes with Isabelle Viallat, and in 1993 he joined the Board of Directors of the Triangle Arts Association in New York, offering artists' residencies, and in 1995 helped set up a sister program, Triangle France, in Marseille at the Friche Belle de Mai. Since 1998, he has been based in New York, and in 2000, he was the founder of Parker's Box in Williamsburg, Brooklyn which presented one hundred experimental exhibitions in its original space until 2013.
In 2004 the French Ministry of Culture and Communication made him Chevalier de l'Ordre des Arts et des Lettres for services to international culture.
In 2011, Manuella Editions, Paris, published LEST, a bilingual monograph tracing the origins of multiple bodies of Alun Williams' work, accompanied by a semi-fictional narrative as well as texts by Cheyney Thompson and Eric Mangion.
Today, while concentrating his energies on his own painting practice, Alun Williams is currently Chair of the Board of Triangle in New York and honorary President of Triangle France in Marseille. He is also involved in a new project, Minoterie21 in Brittany, inviting artists to design "shelters" that are both works of art and venues for retreat and contemplation.