After The Roundup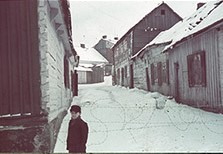 Joining Joseph Weismann will be Paul and Richard Kutner, and Susan Zuccotti, for a conversation on After The Roundup, the true memoir of eleven-year-old Weismann, who was rounded up in Paris with 13,000 other Jews by the French police in July 1942 and held in appalling conditions in the Vélodrome d'Hiver. From there, Weismann and his family were transported by cattle car to the transit camp of Beaune-la-Rolande. Joseph was soon brutally separated from the rest of his family, who were sent to Auschwitz. The 1,500 children left at Beaune were told that they would be reunited with their parents in two weeks to start a new life. Joseph refused to believe this and decided to make a daring escape, crawling inch by inch under the barbed wire for five hours. How would he survive the rest of the war and reconstruct a life for himself? His problems had only just begun.
Until he was 80, Joseph Weismann kept his story to himself, giving only the slightest hints of it to his wife and three children. Simone Veil, lawyer, politician, President of the European Parliament, and member of the Constitutional Council of France—herself a survivor of Auschwitz—urged him to tell his story. In the original French version of this book and in Roselyne Bosch's 2010 film La Rafle, Joseph shares his compelling and terrifying story of the Roundup of the Vél' d'Hiv and his escape. Now, for the first time in English, Joseph tells the rest of his dramatic story in After The Roundup.
In English. Free and open to the public with RSVP.
---
Paul Kutner is a French teacher, Chairman of the World Languages Department, and Director of Global Learning at Oak Knoll School of the Holy Child, in Summit, New Jersey. He has received two grants from the French Embassy in the United States to study in France in order to conduct research and pursue activities related to his advanced French courses, including a 2012 grant to develop his curriculum for the new Advanced Placement French Language & Culture course.
A leader in Holocaust education in high school French classes, Kutner has conducted over forty hours of interviews of Holocaust survivors, their rescuers, and the descendants of rescuers, many of which he uses in class. Paul is a member of the support committee of the American Friends of the Chambon Memorial and is the translator of the museum catalog for the memorial-museum in Le Chambon-sur-Lignon, France. He is a consultant for an upcoming exhibit on Le Chambon-sur-Lignon at the Kupferberg Holocaust Center at Queensborough Community College.
Richard Kutner has translated song lyrics, children's books, graphic novels, film narration, and an entertainment website. His passion, however, is literary translation. His first translation of a novel, Vincent Engel's Fear of Paradise, was published in the US in 2015. Richard was awarded a 2014 Hemingway Grant from the Book Department of the French Embassy in the US for his translation of Philémon : Le naufragé du "A", by the pioneering, influential French comic book artist FRED. He also received a large grant from the Fédération Wallonie-Bruxelles for Fear of Paradise. Richard taught for thirty-three years at the United Nations International School in New York.
Joseph Weismann, born in Paris on June 19, 1931, is the son of Polish immigrants. During the night of July 16-17, 1942, eleven-year-old Joseph and his family were rounded up with 12,880 other Parisian Jews and transported to the Vélodrome d'Hiver (winter cycling stadium), where they were held in appalling conditions. A fugitive, Joseph moved from orphanage to orphanage and foster home to foster home. After the Liberation, he was taken in by a French Jewish couple. He eventually had to sue the French government to acquire his French citizenship, married, and had three children. Now 85, Joseph does many presentations in schools and other organizations throughout France. He has been awarded the Légion d'honneur, the Médaille des évadés, and the Palmes académiques. He has three children and lives in Le Mans, France.
Susan Zuccotti received her B.A. in history from Wellesley College and her PhD in modern European history from Columbia University. Her most recent book, published in 2013, is a biography of a French Capuchin priest who, working closely with Jewish friends and associates, rescued thousands of Jews in Marseille and Rome during the Holocaust. Titled Père Marie-Benoît and Jewish Rescue, it won an Independent Publisher gold medal in history and a Foreword IndieFab Book of the Year Award gold medal, also in history, in 2014. Dr. Zuccotti is also the author of The Italians and the Holocaust: Persecution, Rescue, and Survival (New York: Basic Books, 1987); The Holocaust, the French and the Jews (New York: Basic Books, 1993); Under His Very Windows: The Vatican and the Holocaust in Italy (New Haven: Yale University Press, 2000); and Holocaust Odysseys: The Jews of Saint Martin Vésubie and Their Flight through France and Italy, 1939-1945 (New Haven: Yale University Press, 2007). Her first book received the National Jewish Book Award for Holocaust Studies in the United States and the Premio Acqui Storia–Primo Lavoro in Italy. Under His Very Windows received the National Jewish Book Award for Jewish-Christian Relations and the Sybil Halpern Milton Prize of the German Studies Association. She has also published many articles and reviews in academic journals. Dr. Zuccotti has taught Holocaust and general Western European history at Columbia and Barnard Colleges in New York City and at Trinity College in Hartford, Connecticut.