A Very French Christmas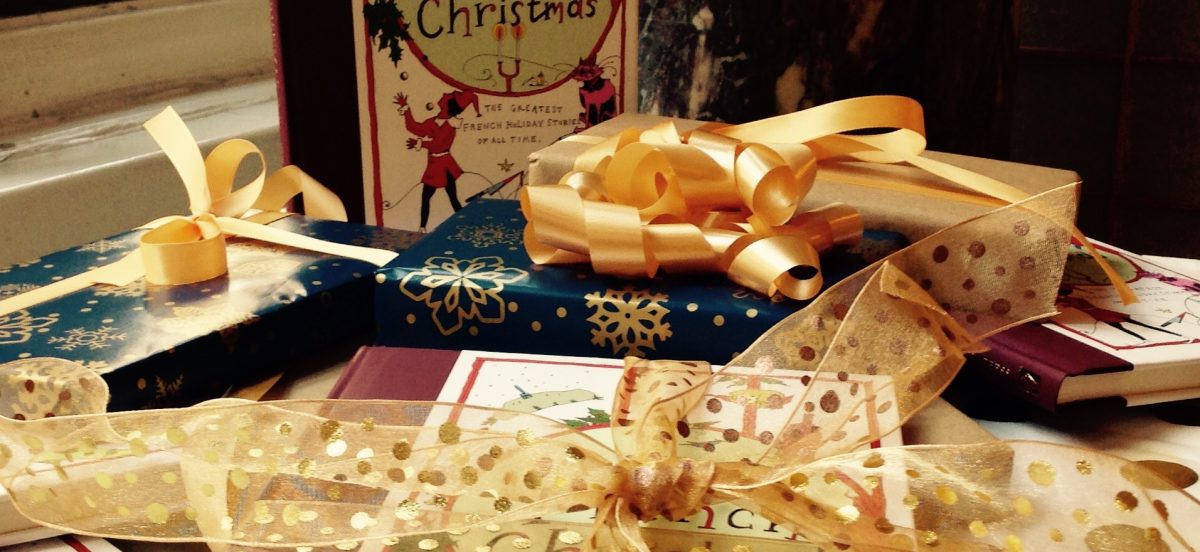 Join Sandra Smith and Liesl Schillinger for a celebration of Christmas à la française—delicious, intense and unexpected, proving that nobody does Christmas like the French!
Our guests will discuss and read from A Very French Christmas (New Vessel Press), a collection that brings together the best French Christmas stories of all time in an elegant and vibrant volume featuring classics by Guy de Maupassant and Alphonse Daudet, plus stories by Irène Némirovsky and contemporary writers Dominique Fabre and Jean-Philippe Blondel.
With a holiday spirit conveyed through sparkling Paris streets, opulent feasts, wandering orphans, kindly monks, homesick soldiers, oysters, crayfish, ham, bonbons, flickering desire, and more than a little wine, this collection encapsulates the holiday spirit and proves that the French have mastered Christmas.
In English. Free and open to the public. No RSVP necessary.
Sandra Smith has translated 12 novels by Irène Némirovsky, including Suite Française, Camus' The Stranger, The Necklace and Other Stories: Maupassant for Modern Times, Et tu n'es pas revenue (But you did not come back) by Marceline Loridan-Ivens, a graphic novel of Camus' The Stranger adapted in French by Jacques Ferrandez, Pocahontas, a graphic novel by Loïc Locatelli-Kournwsky. Her translation of a biography of Jacques Schiffrin will be published by Columbia University Press next year.
Smith's translation of Suite Française won the French-American-Florence Gould Foundation Translation Prize, the PEN Translation Prize and was voted Book of the Year for 2006 by The Times of London. In 2015, her translation was adapted into a movie directed by Saul Dibb and starring Michele Williams, Matthias Schoenaerts and Kristin Scott Thomas.
But You Did Not Come Back has just won the 2016 National Jewish Book Award in the Best Biography, Autobiography, and Memoir category.
Seven of Smith's translations have been adapted as radio plays for the BBC – Suite Française, David Golder, Fire in the Blood, The Dogs and the Wolves, and Jezebel, all by Némirovsky, as well as Camus' The Outsider and But You Did Not Come Back.
Smith taught French language, literature and translation for many years at the University of Cambridge, as well as Master Classes in translation at Columbia. She has been a guest lecturer at Sarah Lawrence, Barnard and Harvard. She currently teaches at NYU and is a member of the Author's Guild and the PEN Translation Committee.

Liesl Schillinger is a New York–based critic, translator, and moderator. She grew up in Midwestern college towns, studied comparative literature at Yale, worked at The New Yorker for more than a decade and became a regular critic for The New York Times Book Review in 2004. Her articles and essays have appeared in The New Yorker, The New York Times, New York, The New Republic, The Washington Post, Vogue, Foreign Policy, The London Independent on Sunday, and many other publications. Her recent translations include the novels Every Day, Every Hour, by Natasa Dragnic (2012, Viking), and The Lady of the Camellias, by Alexandre Dumas, fils (Penguin Classics, 2013). Wordbirds, her illustrated lexicon of necessary neologisms for the 21st Century (Simon & Schuster), came out in Oct. 2013.