A Conversation with Maylis de Kerangal and John Freeman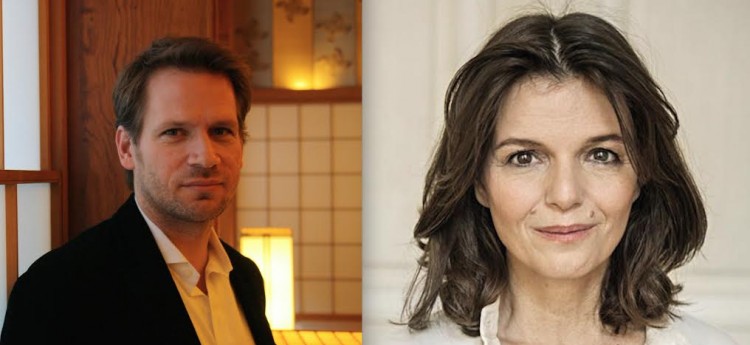 Celebrated French author Maylis de Kerangal and American writer and literary critic John Freeman will discuss their latest work, A ce stade de la nuit and Tales of two Cities, and the new face of poverty and exclusion both in Europe and in the USA. The conversation will be moderated by Arian Murati.
A ce stade de la nuit is a nocturnal meditation inspired by the island Lampedusa. The name of this little piece of land off the Italian shore brings to mind the author of the novel The Leopard,  immortalized on the screen by Visconti. Both a literary and cinematic symbol, Lampedusa has become not only the center of a modern human tragedy where the makeshift boats of African migrants end their desperate course, but also the new face of an inhospitable Europe.
The stories in Tales of Two Cities mix fiction and reportage to convey the indignities and heartbreak, the callousness and solidarity, of living side-by-side with people who have a stupefyingly different income. The pieces here focus on the human dimension of penury and profligacy coexisting in the tightest of quarters, in a style that will move the reader, not just emotionally but perhaps, too, to action.
In English. Free and open to the public. No RSVP necessary.
WATCH THIS EVENT LIVE ON TUESDAY FEBRUARY 23 AT 7PM (EST)
---
Award winning novelist Maylis de Kerangal began her career in publishing for Gallimard's youth department, later founding the children's book publishing house Editions du Baron perché. Her American Western-influenced Naissance d'un pont (Birth of a Bridge, Talon Books, 2014) received both the Prix Médicis and Prix Franz Hessel. Réparer les vivants (The Heart, FSG), also published to great acclaim, was adapted for the stage at the Festival d'Avignon, receiving rave reviews for its intimate look at the realities and philosophical questioning of organ donation. Her writing has been widely praised for its scope, originality, and use of language. The style of her prose is rich and innovative, playing with different registers (from high literary to the most colloquial slang), inventing words, and playing with speed and tension through grammatical ellipsis and elision. Her latest book, A ce stade de la nuit, was published  in December 2015.
A former editorial director of Granta, John Freeman is the publisher of Freeman's, a new biannual of previously unpublished writing, in which he brings together the best new fiction, nonfiction, and poetry around a theme, such as the first issue's: "Arrival." Freeman is the former president of the National Book Critics Circle, and his writing has appeared in almost 200 English-language publications around the world, including The New York Times Book Review, The Los Angeles Times, The Guardian, and The Wall Street Journal.
Arian Murati is a New York-based writer, editor, and former contributor to the Embassy's book department. He is currently at work on a début novel.