A Conversation with Florence Noiville and Siri Hustvedt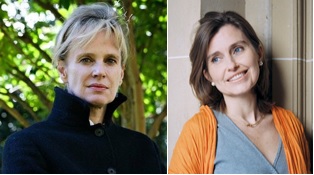 Join American author Siri Hustvedt for a conversation with French novelist Florence Noiville on her novel A Cage in Search of a Bird (translated from the French by teresa Lavender Fagan, Seagull Books), the gripping story of two women caught in the vise of a terrible delusion. Florence Noiville brilliantly narrates this story of obsession and one woman's attempts to escape the irrational love of another—an inescapable, never-ending love, a love that can only end badly.
In the words of Milan Kundera, "What is revealed in A Cage in Search of a Bird by Noiville, is the presence—as strong as it is inexplicable—of love in hatred. One must love greatly to make another suffer."
Laura Wilmote is a television journalist living in Paris. Her life couldn't be better—a stimulating job, a loving boyfriend, interesting friends—until her phone rings in the middle of one night. It is C., an old school friend whom Laura recently helped find a job at the same television station: "My phone rang. I knew right away it was you." Thus begins the story of C.'s unrelenting, obsessive, incurable love/hatred of Laura.
In English. Free and open to the public. No RSVP necessary.
---
Florence Noiville is an author, journalist, staff writer for Le Monde, and editor of foreign fiction for Le Monde des Livres, the paper's literary supplement. She is the author of several books for children, a biography of the Nobel Prize Laureate Isaac Bashevis Singer, a partly autobiographical essay, and three novels, including L'Attachement (Attachment, Seagull Press). Florence Noiville lives in Paris.
Siri Hustvedt has a Ph.D. in English literature from Columbia University and is the internationally acclaimed author of several novels including The Blindfold (1992), The Enchantment of Lily Dahl (1996), What I Loved (2003), The Sorrows of an American (2008), The Summer Without Men, and more recently The Blazing World (2013). Siri Husvedt began writing about art in 1995. Thanks to the recent explosion of research on the brain, she has become increasingly absorbed in neuroscience. She is the author of a growing body of nonfiction including Mysteries of the Rectangle (2006), The Shaking Woman or A History of My Nerves (2010), and Living, Thinking, Looking (2012). In 2012 she was the recipient of the Gabarron International Award for Thought and Humanities. Her work has been translated into over thirty languages. A Her new collection of essays, Woman Looking at Men Looking at Women: Essays on Art, Sex, and the Mind, is forthcoming with Simon and Schuster in November 2016.