A Conversation on Haitian Culture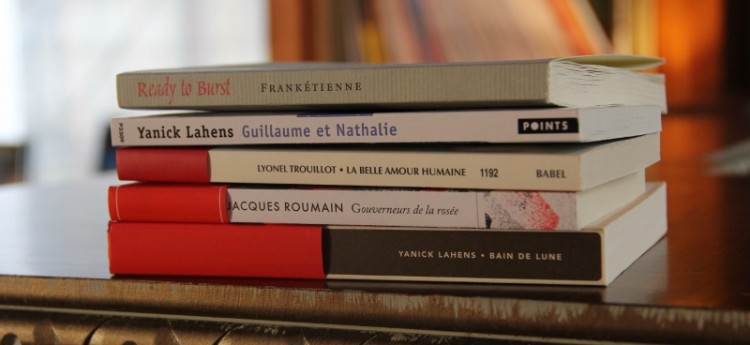 Arts play a major role within Haitian Society. Over the past few years, Haitian authors have been celebrated in France as never before. Join us Saturday March 14th as we explore the work of Dany Laferrière (the first Haitian writer to be elected to the Académie Française), Lyonel Trouillot, Jacques Roumain, and Yanick Lahens (recipient of last year's Femina Prize), with authors and professors Michel Philippe Lerebours, Cauvin Paul, and Frantz Leconte.
The talk will be moderated by Etienne Télémaque and broadcast live on Radio Télé Éclair in Port-au-Prince, Haïti.
In French. Free and open to the public. No RSVP necessary.
---
Dr. Michel Philippe Lerebours is the Director and Conservator of the Museum of Hatian Art of d'Art Haïtien, Saint-Pierre College, Port-au-Prince, Haiti.
Haitian poet and novelist Paul Cauvin is the author of Le Vieux Samuel,  Les Sédentaires and La Belle Eurydice and several collection of poetry. He teaches at Tilden High School (Brooklyn, NY), and  at York College (CUNY).
Dr.Leconte is the author of several books on Haitian culture including En grandissant sous Duvalier, and Haiti, le vaudou au troisième milénaire. He teaches French, Francophone, Haitian literature and culture at C.U.N.Y., and is a member of the American  Association of Teachers of French, the Conseil International d' Études Francophones, the National Association of Scholars, the Association of Literary Scholars and Critics, and La Société des Professeurs Français et Francophones d Amérique. He is very committed to promote French, Francophone, Haitian literature and culture through C.U.N.Y.. 
Etienne Télémaque is an urbanist with a Masters in Education. He has been working as a cultural moderator in New York's Haitian community for 25 years.