An Evening with film director Abderrahmane Sissako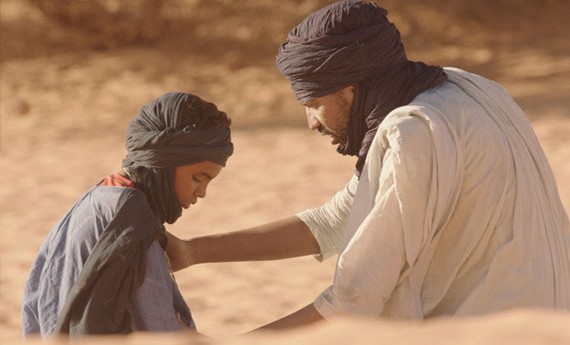 Director Abderrahmane Sissako's Timbuktu (2014), an account of the Islamist occupation of the titular city, is one of the most critically acclaimed films of recent times, as well as the culmination of a string of masterpieces (Life on Earth, Waiting for Happiness, Bamako) by one of the most important figures in cinema. A truly global director, Sissako's films chronicle life around the world (Russia, France, Mali, Mauritania, Angola), but more importantly, they insist upon the commonalities that bind us together in the face of the hostilities that threaten to obscure them. Sissako's work is aesthetically innovative, deeply human, and carries a moral wisdom unsurpassed in today's cinema. Above all, Sissako reminds us that cinema can act as a force for building connections between peoples, and affirms that film can play a central role in our culture, in an age when it is all too often pushed to the sidelines.
Film scholar Michael Cramer will join Sissako to discuss Timbuktu, the director's illustrious career, and the cinema's importance as a force for hope and unity in a volatile world.
Guest: Abderrahmane Sissako
Curator: Michael Cramer
All events are free and open to the public. Seating is limited and available on a first come, first served basis.
Watch this event live via Livestream on Nov. 9 at 7pm (EST).
The Festival Albertine is made possible with major support from The Recanati-Kaplan Foundation, Susannah Hunnewell, Air France, Institut français, The Carlyle, Feast & Fêtes, Café Boulud and Meeschaert Group. Generous support is provided by Champagne Pommery.
---
Michael Cramer, junior faculty member in Film History at Sarah Lawrence College, is the author of Utopian Television: Roberto Rossellini, Peter Watkins, and Jean-Luc Godard Beyond Cinema (University of Minnesota Press, forthcoming). He specializes in film and media theory, cinema of the 1960s and '70s, contemporary world cinema, documentary and nonfiction cinema, and the history and theory of film as political practice.
Abderrahmane Sissako received the FIPRESCI Prize at Cannes in 2002 for Waiting for Happiness. In 2007, Bamako won the Prix Lumière for best French language film. Sissako's 2014 drama, Timbuktu, was nominated for a Palme d'Or, won seven Cesar awards, and was nominated for Best Foreign Language Film at the 87th Academy Awards. Sissako is 2015 president of Cannes' Cinéfondation, and president of Aide aux cinémas du Monde.