Disoriental Wins Albertine Prize 2019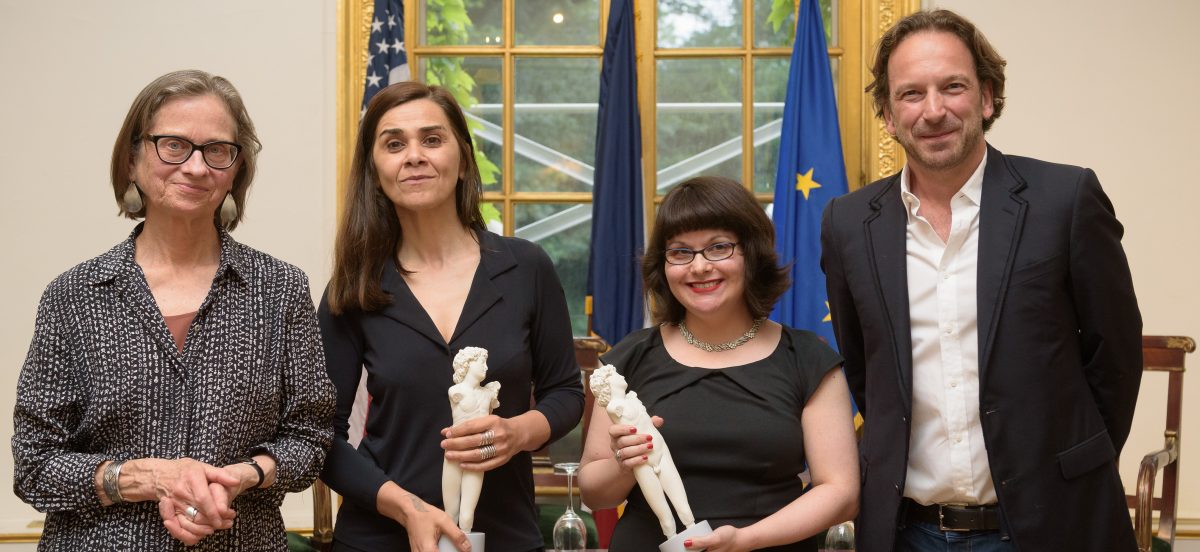 The 2019 Albertine Prize, a reader's choice award for best French fiction in English, has just been awarded to author Négar Djavadi and translator Tina Kover for Disoriental (Europa Editions)!
The laureates received their award during a ceremony at Albertine on June 5, 2019 in the presence of co-chairs, translator and author Lydia Davis and TV personality and literary critic François Busnel. The ceremony was followed by a discussion with Négar Djavadi, Tina Kover and François Busnel, which you can stream anytime on Livestream.
Disoriental, Négar Djavadi's brilliant début novel, is a kaleidoscopic tale intertwining family narratives, personal recollections and key moments of Iranian history, politics, and culture. Gracefully blending suspenseful family sagas into rich and complex coming of age stories, the book conveys a powerful reflection on the challenges that immigrants face when assimilating into a foreign culture. Order it online at Albertine.com or find it at the store.
The winning titles of Albertine's inaugural Prix Jeunesse, a reader's choice award for Francophone youth literature, were also announced on June 5. Click here to discover the winning books.
---
Négar Djavadi was born in Iran in 1969 to a family of intellectuals opposed to the regimes both of the Shah, then of Khomeini. She arrived in France at the age of eleven, having crossed the mountains of Kurdistan on horseback with her mother and sister. Djavadi is a screenwriter and lives in Paris.
Tina Kover has been a literary translator for over a decade, translating works of both classic and modern literature including Alexandre Dumas's Georges, the Goncourt brothers' Manette Salomon, and Mahir Guven's Goncourt Prize-winning Older Brother. She studied French at the University of Denver and the University of Lausanne, Switzerland, and later worked in Prague teaching English as a foreign language. Her translation of Négar Djavadi's Disoriental was a finalist for the National Book Award for Translated Literature in 2018 and the PEN Translation Prize in 2019.