Author's Bookshelf
Author's Bookshelf
What's on Nicolas Mathieu's Bookshelves?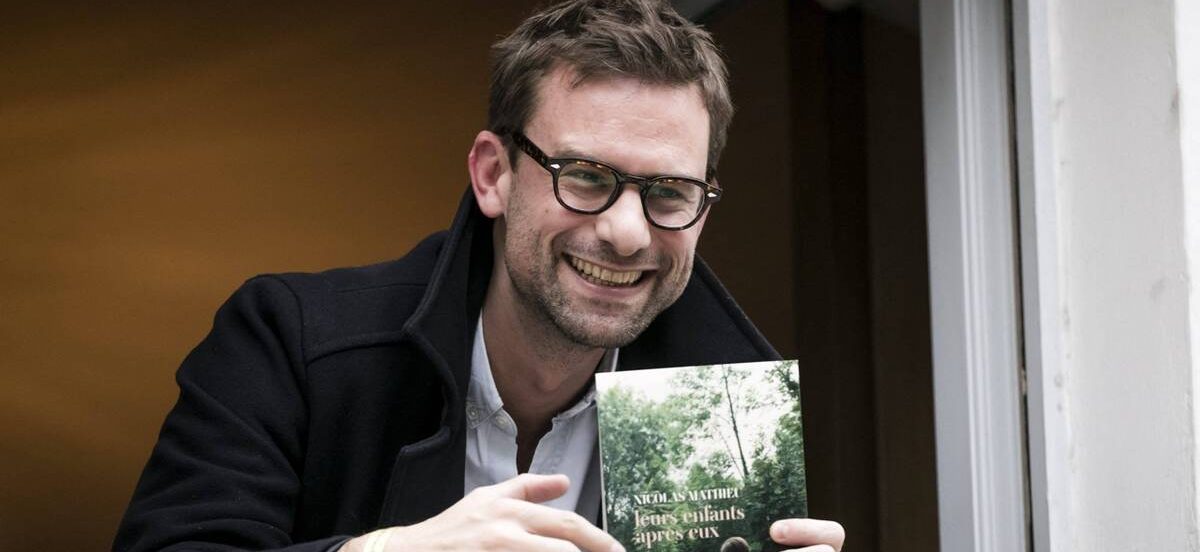 In a country that cherishes literary quarrels as much as France, a novel unanimously praised by the literary press from Le Figaro Littéraire, to Libération, including Télérama, Le Monde, and Les Inrocks is quite a rare thing. Leurs enfants après eux (Actes Sud) Nicolas Mathieu's second novel, counts among these happy few.
And after a few pages into it, readers clearly understand why: Nicolas Mathieu's talent is staggering. Mathieu writes with insight and authority about a world that he knows inside out, a world where men are crushed by factory work, where a woman's beauty fades long before 30, where teenagers agonize in their boredom and from having no other prospects than repeating their parents' failures.
Just like Edouard Louis, Nicolas Mathieu is a legitimate heir to Pierre Bourdieu, Annie Ernaux, and Jean-Patrick Manchette.
Leurs enfants après eux is one of those novels that expands your world, where the protagonists become dear old friends by the last page. Indeed, once you have finished, you may feel the urge to introduce them to your friends–first because you'd like to keep them around a bit longer; and second because you know that they'll hit it off from the first page on.
Since we were curious to know which books are on Mathieu's bookshelf, we asked him just that; and here is his generous response!
If you want to read our staff pick on Leurs enfants après eux, click here.
BOOKSHELF
"I was seventeen the first time I read it. It might have been too young. I never completely recovered from that night." –Nicolas Mathieu.
Louis-Ferdinand Céline's revulsion and anger at what he considered the idiocy and hypocrisy of society explodes from nearly every page of this novel. Filled with slang and obscenities and written in raw, colloquial language, Journey to the End of the Night is a literary symphony of violence, cruelty and obscene nihilism. This book shocked most critics when it was first published in France in 1932, but quickly became a success with the reading public in Europe, and later in America where it was first published by New Directions in 1952. The story of the improbable yet convincingly described travels of the petit-bourgeois (and largely autobiographical) antihero, Bardamu, from the trenches of World War I, to the African jungle, to New York and Detroit, and finally to life as a failed doctor in Paris, takes the readers by the scruff and hurtles them toward the novel's inevitable, sad conclusion.
Journey To The End of the Night, a novel by Louis-Ferdinand Céline, translated from the French by Ralph Manheim, New Directions.
Click here to purchase this book with us.
"Just like Perec, Annie Ernaux showed me a path that I am also trying to follow: how social sciences can work within literature without taking over the poetic dimension of the work." –Nicolas Mathieu
The Years is a personal narrative of the period 1941 to 2006 told through the lens of memory, impressions past and present—even projections into the future—photos, books, songs, radio, television and decades of advertising, headlines, contrasted with intimate conflicts and writing notes from six decades of diaries. Local dialect, words of the times, slogans, brands and names for the ever-proliferating objects, are given voice here. The voice we recognize as the author's continually dissolves and re-emerges. Ernaux makes the passage of time palpable. Time itself, inexorable, narrates its own course, consigning all other narrators to anonymity.
The Years, a novel by Annie Ernaux, translated by Alison L. Strayer, Seven Stories Press
Click here to purchase this book with us.
"Literature is a political weapon. here's the proof."– Nicolas Mathieu
Linhart has written a gripping narrative of his nine months as a laborer at the Citroen auto works at Choisy. With controlled rage, he conveys the pervasive sense of mindlessness attendant upon work in The Assembly Line. The strike he eventually comes to lead is short-lived, but his description of working conditions―descrimination against a variety of ethnic groups, the minutes 'stolen' or unpaid by management, the fear instilled by overweening bosses, the nausea, heat and hazardous chemicals―reads like something out of Dickens or Friedrich Engels. . . . This book is unmatched on this side of the Atlantic as an account of the tyranny of mass production and its effects in terms of human submission. Strongly recommended.
L'Etabli, a novel by Robert Linhart, Minuit
Click here to purchase this book with us.
"My favorite Noir fiction. Dexter's style is elegant enough not to show off, and his plot are concrete solid. It's the book hat made me go back to writing when I thought I was done." –Nicolas Mathieu
Pete Dexter's National Book Award–winning tour de force tells the mesmerizing story of a shocking crime that shatters lives and exposes the hypocrisies of a small Southern town.
The time and place: Cotton Point, Georgia, just after World War II. The event: the murder of a fourteen-year-old black girl by a respected white citizen named Paris Trout, who feels he's done absolutely nothing wrong. As a trial looms, the crime eats away at the social fabric of Cotton Point, through its facade of manners and civility. Trout's indifference haunts his defense lawyer; his festering paranoia warps his timid, quiet wife; and Trout himself moves closer to madness as he becomes obsessed with his cause—and his vendettas.
Cotton Point (Paris Trout), a novel by Pete Dexter (trans from the English by Anny Amberni, L'Olivier).
Click here to purchase this book with us.
"Here we enter first love territory: A larger-than-life character, elusive and ambivalent, like Long John Silver or Le Baron Charlus. the best protagonists are made of that material." –Nicolas Mathieu
This collection of The Adventures of Sherlock Holmes and the Memoirs of Sherlock Holmes includes many of the famous cases – and great strokes of brilliance – that made the legendary detective one of fiction's most popular creations. With his devoted amanuensis Dr Watson, Holmes emerges from his smoke-filled room in Baker Street to grapple with the forces of treachery, intrigue and evil in such cases as The Speckled Band, in which a terrified woman begs their help in solving the mystery surrounding her sister's death, or A Scandal in Bohemia, which portrays a European king blackmailed by his mistress. In Silver Blaze the pair investigate the disappearance of a racehorse and the violent murder of its trainer, while in The Final Problem Holmes at last comes face to face with his nemesis, the diabolical Professor Moriarty – 'the Napoleon of crime'.
The Adventures of Sherlock Holmes, a novel by Sir Conan Doyle,  trans. from the English by Eric Wittersheim, Omnibus.
Click here to purchase this book with us.
"It's a secret to no one that Debord is a thinker. But the language of Society of The Spectacle, which now feels dated, masks the literary magnitude of his other books. Debord writes with a whip in hand. Just like Flaubert and some others, he is a great misanthrope that makes life more bearable."– Nicolas Mathieu
Guy Debord's silver-tongue-in-cheek autobiography mixes precision and pastiche in a whirlwind account of philosophy, exploit, and inebriation. From the stark professions of Volume I to the illustrated sequences of Volume 2, Panégyric confronts us with a figure who strategically, demonically tried to wrest life from the disabling modern 'spectacle.'
Panégyrique by Guy Debord, Gallimard, also available in English translation by James Brook with Radical Thinkers.
Click here to purchase this book with us.